Books and Resources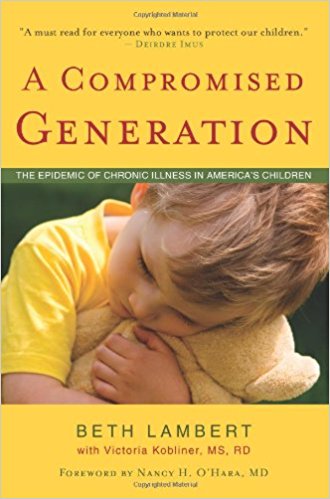 A Compromised Generation reveals how seemingly benign elements of American culture are making millions of children chronically ill, disabled, or dysfunctional. Children are being diagnosed with illnesses such as autism, asthma, allergies, and ADHD at a breathtaking rate. The etiology of autism continues to confound mainstream medicine, yet parents, medical researchers, and healthcare practitioners dedicated to unraveling the mystery are beginning to put the pieces of the puzzle into place. They have found that environmental factors that cause autism are the same ones causing epidemics of ADHD, juvenile diabetes, asthma, gastrointestinal disorders, and many other chronic illnesses. Although the specific pathophysiology of each individual child's illness varies, they all have the same basic underlying causes. It is a perfect storm of environmental factors including decades of pharmaceutical over-usage, toxic or nutritionally anemic diets, excessive exposure to environmental toxins, specific American habits and lifestyles, and excessive or improperly administered vaccines. A Compromised Generation provides details on how this epidemic can be reversed and how to prevent more children from becoming ill, supplying evidence that children can recover from chronic illnesses, including autism, by altering their environmental influences and by stepping outside of the traditional western medical paradigm.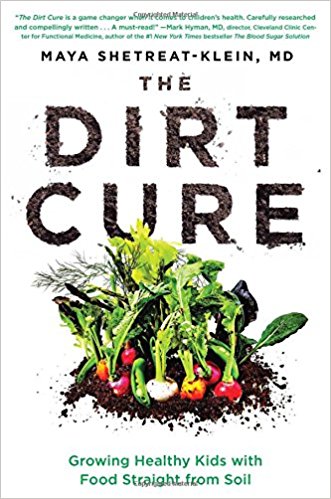 In the tradition of Michael Pollan, Mark Hyman, and Andrew Weil, pioneering integrative pediatric neurologist Maya Shetreat-Klein, MD, reveals the shocking contents of children's food, how it's seriously harming their bodies and brains, and what we can do about it. And she presents the first nutritional plan for getting and keeping children healthy—a plan that any family can follow.
New alarming studies show the dramatic rise of chronic disease in children—from allergies and ADHD to mental illnesses and obesity. A traditionally trained pediatric neurologist and a parent herself, Dr. Maya encountered the limits of conventional medicine when her son suffered a severe episode of asthma on his first birthday and began a backward slide in his development. Treatments failed to reverse his condition, so Dr. Maya embarked on a scientific investigation, discovering that food was at the root of her son's illness, affecting his digestive system, immune system, and brain. The solution was shockingly simple: Heal the food, heal the gut, heal the brain…and heal the child.
Recent changes in growing and processing food harm kids' gut microbiomes, immune systems, and brains, contributing to chronic disease. Dr. Maya's plan started with the soil, using fresh foods and nature to heal her son from the inside out and the outside in. Since then, she's successfully helped chronically ill patients from around the world. Revealing the profound connections between food, nature, and children's health, Dr. Maya explains how food is constantly changing kids' bodies, brains, and even genes—for better or for worse. She also shares success stories from her practice and tips as a working mother of three on stocking healing foods (from veggies to chocolate!), reading labels, and getting even picky eaters into the new menu. This paradigm-shifting book empowers you to transform your child's health through food and ensure the long-term wellbeing of your kids and the entire family.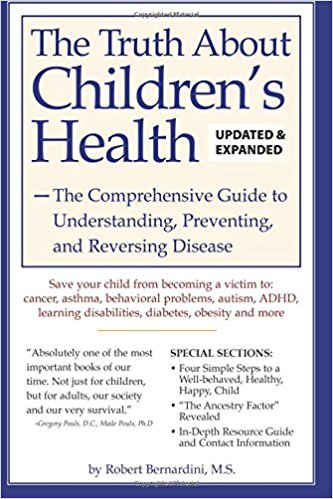 Hailed as "one of the most important books of our time…" by many health care professionals, this groundbreaking book will open your eyes to the unseen causes and simple cures of most childhood diseases. Heavily researched (over 800 references) and written for the average reader, it documents how many maladies—even some considered irreversible—can be improved and sometimes completely reversed. It details how the body and mind of a young child differs from an adult, why this is so important and how this impacts the child. Contains an in-depth resource guide, contact information and "Four Simple Steps to a Healthy, Happy Well-behaved Child." Insightful and entertaining—one of the few health books you won't want to put down. If you have or are thinking of having children, this book is a must, but should be read by anyone interested in health.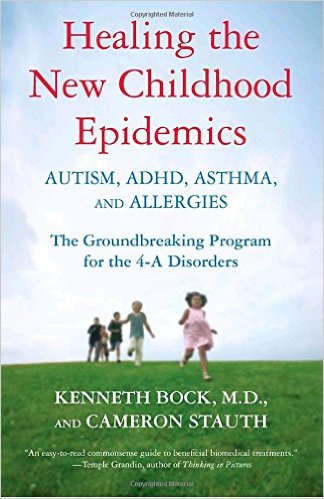 Autism is an epidemic: It has spiked 1,500 percent in the last twenty years. ADHD, asthma and allergies have also skyrocketed over the same time period. One of these conditions now strikes one in every three children in America. But there is hope. Leading medical innovator Kenneth Bock, M.D., has helped change the lives of more than a thousand children, and in this important book, with a comprehensive program that targets all four of the 4-A disorders, he offers help to children everywhere. This is the book that finally puts hope within reach.
Doctors have generally overlooked the connections among the 4-A disorders, despite their concurrent rise and the presence of many medical clues. For years the medical establishment has considered autism medically untreatable and utterly incurable, and has limited ADHD treatment mainly to symptom suppression. Dr. Bock and his colleagues, however, have discovered a solution – one that goes to the root of the problem. They have found that deadly modern toxins, nutritional deficiencies, metabolic imbalances, genetic vulnerabilities and assaults on the immune and gastrointestinal systems trigger most of the symptoms of the 4-A disorders, resulting in frequent misdiagnosis and untold misery.
Dr. Bock's remarkable Healing Program, drawing on medical research and based on years of clinical success, offers a safe, sensible solution that is individualized to each child to help remedy these root causes. The biomedical approach to autism, ADHD, and the other 4-A epidemics, as innovated by Dr. Bock and some of America's finest integrative physicians, is one of the most promising and exciting medical movements of our time.
In this eminently readable account, written by Dr. Bock in collaboration with critically acclaimed author Cameron Stauth, you will meet children and parents whose dramatic stories will inspire you to change the life of your own child. This program may be the help that you have been praying for.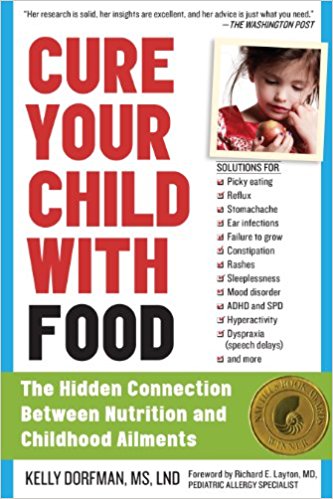 Why treat your child with drugs when you can cure your child with nutrition? Grounded in cutting-edge science and filled with case studies that read like medical thrillers, this is a book for every parent whose child suffers from mood swings, stomachaches, ear infections, eczema, anxiety, tantrums, ADD/ADHD, picky eating, asthma, lack of growth, and a host of other physical, behavioral, and developmental problems.
Previously published as What's Eating Your Child? and now with a new chapter on the unexpected connection between gluten and insatiable appetite, Cure Your Child with Food shows parents how to uncover the clues behind their children's surprisingly nutrition-based health issues and implement simple treatments―immediately.
You'll discover how zinc deficiency can cause picky eating and affect growth. The panoply of problems caused by gluten and dairy. How ear infections and mood disorders, such as anxiety and bipolar disorder, can be a sign of food intolerance. Plus, how to get your child to sleep, soothe hyperactivity, and deal with reflux using simple nutritional strategies.
Ms. Dorfman, a nutritionist whose typical family arrives at her practice after seeing three or more specialists, gives parents the tools they need to become nutrition detectives; to recalibrate their children's diets through the easy E.A.T. program; and, finally, to get their children off drugs―antibiotics, laxatives, Prozac, Ritalin―and back to a natural state of well-being.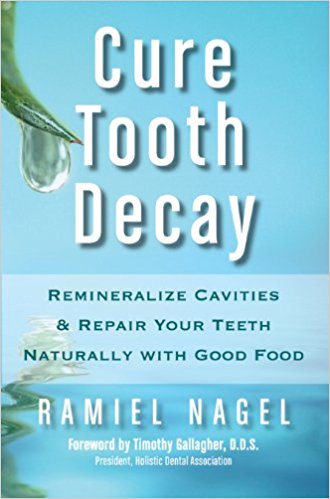 Forget about drilling, filling, and the inevitable billing. Your teeth can heal naturally because they were never designed to decay in the first place! They were designed to remain strong and healthy for your entire life. But the false promises of conventional dentistry have led us down the wrong path, leading to invasive surgical treatments that include fillings, crowns, root canals and dental implants. Now there is a natural way to take control of your dental health by changing the food that you eat. Cure Tooth Decay is based upon the pioneering nutritional program of dentist Weston Price, former head of research at the National Dental Association. Dr. Price's program proved to be 90-95% or more effective in remineralizing tooth cavities utilizing only nutritional improvements in the diet. Cure Tooth Decay is the result of five years of research and trial and error that started as one father's journey to cure his daughter's rapidly progressing tooth decay. With Cure Tooth Decay you will join the thousands of people who have learned how to remineralize teeth, eliminate tooth pain or sensitivity, avoid root canals, stop cavities — sometimes instantaneously, regrow secondary dentin, form new tooth enamel, avoid or minimize gum loss, heal and repair tooth infections, only use dental treatments when medically necessary, save your mouth (and your pocketbook) from thousands of dollars of unneeded dental procedures, and increase your overall health and vitality. Cure Tooth Decay provides you with clear and easy to understand dental facts to help you make healthy, life-affirming choices about your dental health. It is about healing cavities without dental surgery or fluoride. Cure Tooth Decay highlights include: conventional dentistry's losing war against bacteria, why people fear the dentist and what you can do about it, the power of butter to heal teeth, the difference between healthy and unhealthy fats, specific dietary and meal plans that highlight the types of foods to eat every day to remineralize teeth, a simple cavity-healing program that is easy to follow, the cause of dental plaque and an amazing technique to reverse gum disease, safe dental filling materials, how to find a good minimally invasive dentist, how to prevent root canals, how to monitor tooth decay at home, toxic vs. non-toxic tooth cleaners, your bite: a hidden cause of cavities, understanding ideal jaw position and TMJ dysfunction, how to save your wisdom teeth, x-ray proof that cavities can heal, how to heal children's cavities and find peace, why women get cavities during pregnancy and how to stop it, and so much more.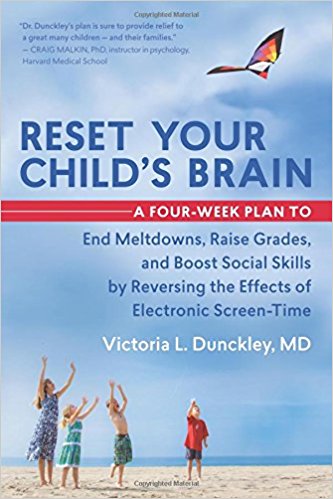 A no-cost, nonpharmaceutical treatment plan for children with behavioral and mental health challenges
Increasing numbers of parents grapple with children who are acting out without obvious reason. Revved up and irritable, many of these children are diagnosed with ADHD, bipolar illness, autism, or other disorders but don't respond well to treatment. They are then medicated, often with poor results and unwanted side effects. Based on emerging scientific research and extensive clinical experience, integrative child psychiatrist Dr. Victoria Dunckley has pioneered a four-week program to treat the frequent underlying cause, Electronic Screen Syndrome (ESS).
Dr. Dunckley has found that everyday use of interactive screen devices – such as computers, video games, smartphones, and tablets – can easily overstimulate a child's nervous system, triggering a variety of stubborn symptoms. In contrast, she's discovered that a strict electronic fast single-handedly improves mood, focus, sleep, and behavior, regardless of the child's diagnosis.
Offered now in this book, this simple intervention can produce a life-changing shift in brain function – all without cost or medication. Dr. Dunckley provides hope for parents who feel that their child has been misdiagnosed or inappropriately medicated, by presenting an alternative explanation for their child's difficulties and a concrete plan for treating them.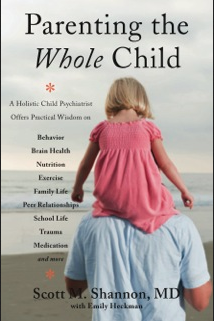 Complementing his book for professionals, here Scott Shannon equips parents and caregivers with a better way to understand the mental health challenges their children face, including how cutting-edge scientific concepts like epigenetics and neuroplasticity mean new hope for overcoming them. Readers learn how the most common stressors in kids—inadequate nutrition, unaddressed trauma, learning problems, family relationships, and more—are often at the root of behavioral and emotional issues, and what steps can be taken to restore health and wholeness, without immediately turning to medication.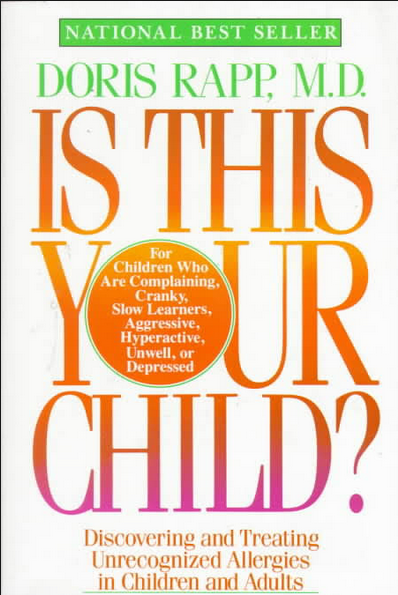 These are the major symptoms of potentially unrecognized allergies. Does your child suffer from any of the following?

• Allergic Nose Rub • Eye Circles • Red Ears • Red Cheeks • Eye Wrinkles • Aggression • Lack of Alertness • Mottled Tongue •

In this breakthrough book, Dr. Doris Rapp offers a simple yet effective approach to handling "problem" children. Is This Your Child? shows parents how to identify the common foods, chemicals, or common allergic substances that could be the culprits that cause some children or adults to feel unwell or act inappropriately. If your child is always sick, hyperactive, a slow learner, or cranky, the first question you should ask is not "What drug should be prescribed?" or "What have I done wrong as a parent?" Instead, find out the cause.

Dr. Rapp gives sensible suggestions about how these reactions to foods and environmental factors can be recognized, prevented, and treated. With this information, many affected children should feel, act, behave, and learn better. If you can detect unsuspected environmental illness in your child–or yourself–you can change your lives so you're more content, happy, and free of illness.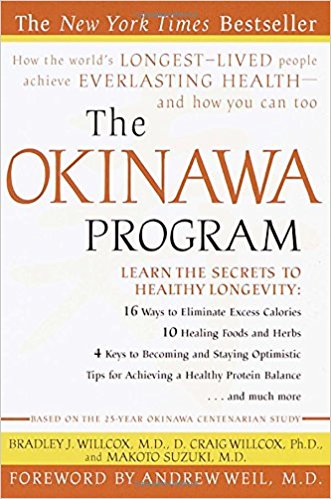 "If Americans lived more like the Okinawans, 80 percent of the nation's coronary care units, one-third of the cancer wards, and a lot of the nursing homes would be shut down." —From The Okinawa Program
The Okinawa Program, authored by a team of internationally renowned experts, is based on the landmark scientifically documented twenty-five-year Okinawa Centenarian Study, a Japanese Ministry of health–sponsored study. This breakthrough book reveals the diet, exercise, and lifestyle practices that make the Okinawans the healthiest and longest-lived population in the world. With an easy-to-follow Four-Week Turnaround Plan, nearly one hundred fast, delicious recipes, and a moderate exercise plan, The Okinawa Program can dramatically increase your chances for a long, healthy life.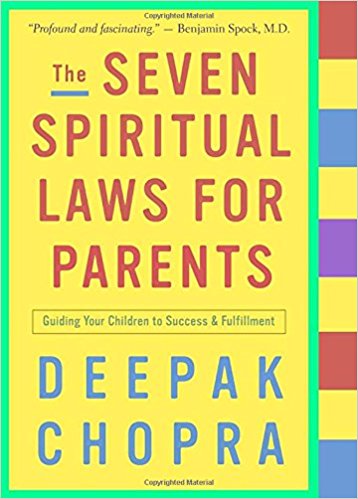 The Seven Spiritual Laws of Success was a phenomenon that touched millions of lives. Its author, Deepak Chopra, received thousands of letters from parents who expressed the desire to convey the principles they had learned to their children, along with questions about how to do so.
The Seven Spiritual Laws for Parents is Dr. Chopra's answer to those parents who wish to raise children with values that satisfy spiritual needs as well as create the experience of abundance. Exploring specific ways to practice the Seven Spiritual Laws as a family, Chopra explains how to convey these laws to children, and how to embody them in age-specific activities each day.
The Seven Spiritual Laws for Parents moves us beyond a focus on private triumphs and failures to experience the spiritual nature of communion with family, to share with those closest to us the infinite riches of innocence and love.
The deepest nurturing you can give your child is spiritual nurturing.
There are seven simple sayings that can have a profound impact on your child's life.
• Everything is possible.
• If you want to get something, give something.
• When you make a choice, you change the future.
• Don't say no—go with the flow.
• Every time you wish or want, you plant a seed.
• Enjoy the journey.
• You are here for a reason.
Raised with these insights, every child can obtain the success that comes from having the most valuable skills anyone can possess: the ability to love and have compassion, and the capacity to feel joy and spread it to others. In this essential work for every parent, Deepak Chopra reflects on his experiences as a father as well as his own spiritual journey and offers profound and practical ways for sharing these principles with your children.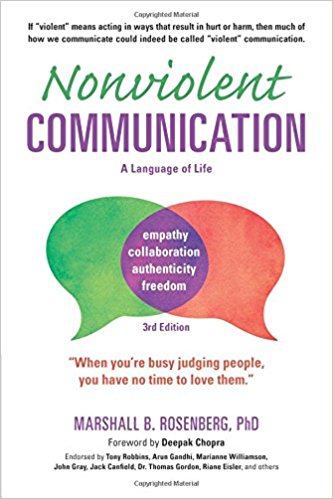 What is Violent Communication? If "violent" means acting in ways that result in hurt or harm, then much of how we communicate—judging others, bullying, having racial bias, blaming, finger pointing, discriminating, speaking without listening, criticizing others or ourselves, name-calling, reacting when angry, using political rhetoric, being defensive or judging who's "good/bad" or what's "right/wrong" with people—could indeed be called "violent communication."
Nonviolent Communication is the integration of 4 things:
Consciousness: a set of principles that support living a life of empathy, care, courage, and authenticity
Language: understanding how words contribute to connection or distance
Communication: knowing how to ask for what we want, how to hear others even in disagreement, and how to move toward solutions that work for all
Means of influence: sharing "power with others" rather than using "power over others"
Nonviolent Communication serves our desire to do three things:
1: Increase our ability to live with choice, meaning, and connection
2: Connect empathically with self and others to have more satisfying relationships
3: Sharing of resources so everyone is able to benefit
"Nonviolent Communication shows us a way of being very honest, without any criticism, insults, or put-downs, and without any intellectual diagnosis implying wrongness." — Marshall B. Rosenberg, PhD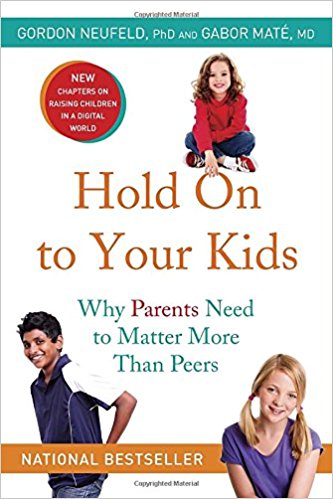 This parenting classic on one of the most disturbing and misunderstood trends of our time–peers replacing parents in the lives of children–is now more relevant than ever. The latest edition includes new material on how social media and video game culture are affecting our children, and what parents can do.
In Hold On to Your Kids, Dr. Neufeld and Dr. Maté explore the phenomenon of peer orientation: the troubling tendency of children and youth to look to their peers for direction–for a sense of right and wrong, for values, identity and codes of behaviour. But peer orientation undermines family cohesion, poisons the school atmosphere, and fosters an aggressively hostile and sexualized youth culture. It provides a powerful explanation for schoolyard bullying and youth violence; it is an escalating trend that has never been adequately described or contested until Hold On to Your Kids. Once understood, it becomes self-evident–as do the solutions.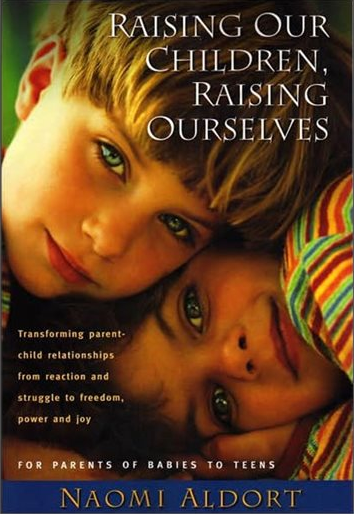 Every parent would happily give up ever scolding, punishing or threatening if she only knew how to ensure that her toddler/child/teen would thrive and act responsibly without such painful measures. Raising Our Children, Raising Ourselves is the answer to this universal wish. It is not about gentle ways to control a child, but about a way of being and of understanding a child so she/he can be the best of herself, not because she fears you or seeks your approval but because she wants to, of her own free will. Aldort's guidance takes the struggle out of parenting. The book is full of real life stories, often leaving the reader moved to tears or laughter and relieved to discover that there is a kinder way. The SALVE communication formula has been praised for providing a hybrid of The Work of Byron Katie and Nonviolent Communication. It gives parents the tools to move beyond their initial unproductive reaction, to a response that is connecting and empowering to the child and to themselves.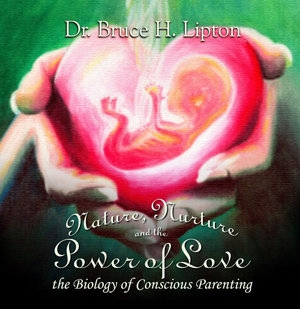 Bruce Lipton on Conscious Parenting: Our pre- and perinatal experiences form a biological template, which colors subsequent feelings and attitudes about ourselves, our relationships and our connection to Earth and Spirit. Awareness of this important programming mechanism can be used to prevent further harm, as well as heal the places in our hearts and minds where we ourselves have acquired limiting program.
Link to buy on Bruce Lipton's website.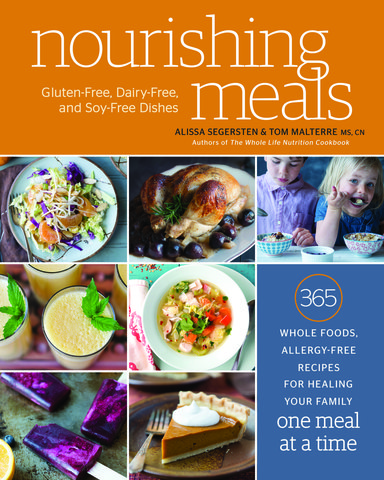 Nourishing Meals is the ultimate guide to eating healthfully as a family—a simple, practical cookbook that shows how easy it is to ditch processed foods one meal at a time with 365 delicious, whole food-based, allergen-free recipes that the entire family will love.
It can be daunting to live a whole foods lifestyle in today's busy world—even more so to prepare plant-rich, allergen-free meals that'll get the whole family around the table. Popular blogger Ali Segersten and functional medicine expert Tom Malterre are a team devoted to teaching their five children—and readers—the importance of living a whole foods lifestyle. Nourishing Meals makes it easy and fun with dishes that burst with flavor, such as their Cherry Pecan Salad, Butternut Squash and Pinto Bean Enchiladas, Chipotle-Lime Roasted Chicken, and Banana Coconut Cream Pie.
The Nourishing Meals book includes recipes that are free of the most common allergens: gluten, soy, and dairy, as well as refined sugar. And these dishes are designed to appeal to everyone, including vegan, vegetarian, seafood, and meat-eaters. In addition to wonderful food, Ali and Tom offer easy, doable steps to help you change your family's health, tips for making the transition easier, and ways to get the kids excited about wholesome foods. They map out the best foods and recipes for every stage of having a family, from pre-conception and pregnancy through each year of a child's life. And they explain in accessible terms what makes their recipes so effective for achieving optimal health. This brand new edition features more than 30 new recipes, and many of the original recipes have been updated. This edition also includes over 50 beautiful all-new food photos featured in two inserts.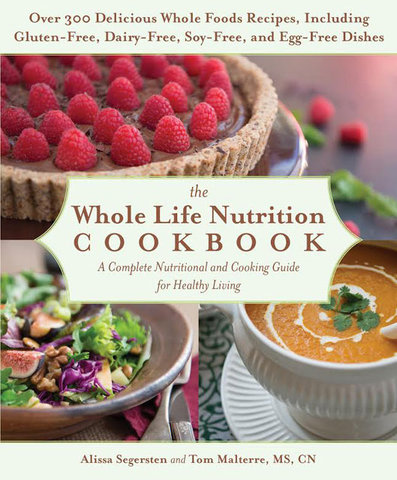 The NEW Whole Life Nutrition Cookbook is the guide for learning how to stock and prepare whole foods…and how to be the healthiest YOU!
We know that the old edition has been a kitchen bible for many and we wanted to continue that tradition with the new, revised Whole Life Nutrition Cookbook! We've added over 100 well-tested new recipes and fascinating health information so you can have the most delicious, soul-satisfying meals and be able to make the most informed decisions about what to eat and why!
The Whole Life Nutrition Cookbook will guide you through the process of stocking whole foods, from the healthiest meats and seafood to the best types of fats and oils, and even the healthiest forms of chocolate! You'll learn detailed information on the benefits of each whole food group—Greens, Vegetables, Fruits, Whole Grains, Legumes, Nuts and Seeds, Meats & Seafood, Dairy Foods, Sea Vegetables, and Fats. There are over 450 pages of recipes and information!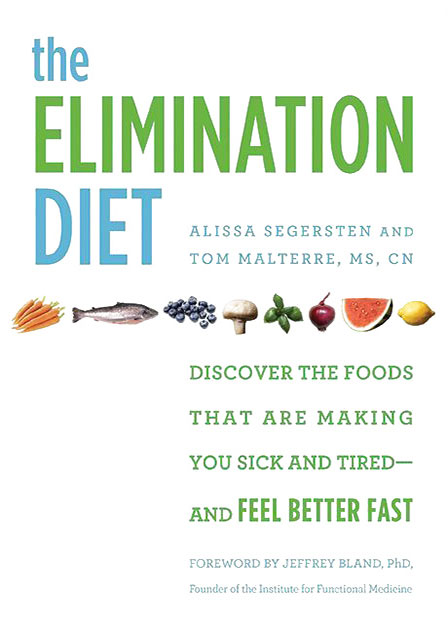 Achy Joints, irritability, fatigue, brain fog, depression, weight gain—does this sound like you? If so, the foods you eat every day may be to blame. Discover how amazing you can feel using the power of the Elimination Diet!
"I'm a strong proponent of elimination diets, and The Elimination Diet makes it easier than ever to customize your diet for improved health and wellness." -Mark Hyman, MD, #1 New York Times bestselling author of The Blood Sugar Solution
Could the toast you ate for breakfast bring on your afternoon headache? Could the milk in your coffee cause joint pain and brain fog? Could your healthy tofu stir-fry slow your metabolism?
Yes—there is an age-old, powerful connection between what you eat and how you feel. Just as no two bodies are the same, no two diets work for everyone. The only way to discover your ideal diet is to follow an Elimination Diet that will help you link foods to symptoms and customize a diet that works for you.
Complete with 125 delicious recipes, shopping lists, and meal plans, The Elimination Diet is a complete functional medicine resource for you to improve your health and feel better, naturally.