Coronavirus Outbreak: Making Your Family's Action Plan Group Coaching Session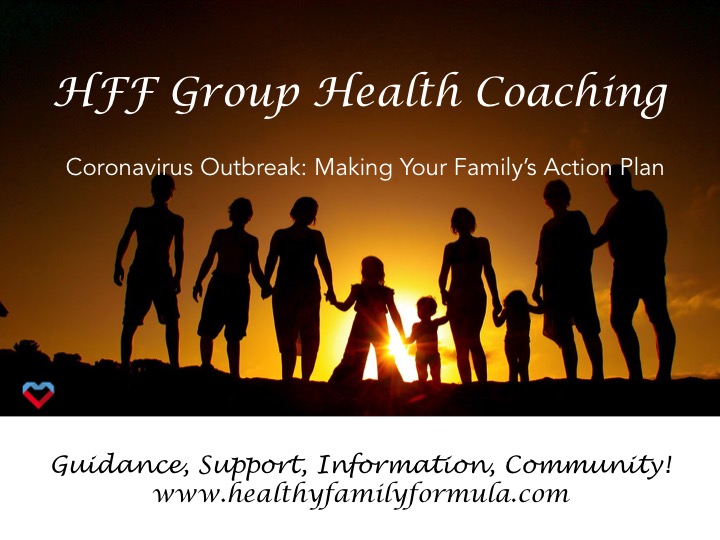 Coaching Your Family Through the COVID-19 Outbreak
I know that a lot of you are worried about the coronavirus situation. There is a lot to consider when you are making decisions for your family's health, but I assure you, if you stay calm and get informed, you got this.
People are consuming a great deal of information, but is all of it good? Is all of it useful for you or even accurate? There are some very good recommendations being made by people in both the conventional and holistic spaces, but it is a lot to sort out. In addition, you may have a particular situation in your family that confounds the issue, existing health conditions, or even sensitivities or reactions to even the most seemingly benign interventions and would like some more support. You may be overwhelmed by the choices you have to make and would like a bit more help with the planning and the execution of that plan. I anticipate that many people are feeling this way, and to meet those needs, I am offering group coaching sessions to help families through. So, if you need further guidance and support through developing a plan for your particular family given your individual needs, I would like to help.
This week, I will be conducting Coronavirus Outbreak: Making Your Family's Action Plan group coaching sessions. They will not be free webinars but guided coaching sessions delivered to an intimate group of people with a common concern or topic of interest, in this case, the coronavirus. The group setting will ensure the affordability of each session for interested families as well as maximize my time as your health coach.
This is for everyone interested in attending, and you do not have to be a current client to register for the sessions!
Once you have registered:
You will be emailed the link to our zoom meeting upon registration.
You will be supplied with:
Your Family Plan Worksheet.
A PDF copy of the article: "Weighing in on Coronavirus (COVID-19) FULL Official Article (read the article online here)," and an "at a glance" sheet and summary of the information shared during the session.
Part of the coaching session will be an hour-long Q and A session to field all questions from participants.
The cost for the sessions is $30CDN (Canadian dollars) per participant per session. I decided to reduce our usual group coaching rate of $60CDN/session in light of the urgency and stress many people are feeling and to further make accessing my services more affordable for all.
Read more about how group coaching works here.
Coronavirus Outbreak: Making Your Family's Action Plan Group Coaching Session
There are two times to choose from so far:
Session 1
Tuesday, March 17, 2020
12:00 noon Saskatchewan/Guatemala time
Your registration form will be emailed to you immediately upon purchase.
Session 2
Tuesday, March 17, 2020
6:00pm Saskatchewan/Guatemala time
Your registration form will be emailed to you immediately upon purchase.
I am here. And like I said, you got this!
Carla Atherton, MA, FDN-P, Family Health Coach, is the director of The Healthy Family Formula, host of The Children's and Teen Health Summit, author of the forthcoming book Family Health Revolution (release date: January, 2020), editor, book junkie, research geek, insatiably curious mother of three grown (son age 21), almost grown (daughter age 19), and growing (daughter age 16) children, one of whom has Type 1 Diabetes. Carla lives on an acreage in rural Saskatchewan, Canada, where she works from a home office with families from all over the world on the reversal of conditions such as, Autoimmunity: Type 1 Diabetes, PANDAS/PANS/Autoimmune Encephalitis, Juvenile Rheumatoid Arthritis, and Celiac Disease and Non-Celiac Gluten Sensitivity; Asthma, Allergies, Eczema, and Reactivity; ADHD, Autism, Sensory Processing Disorder, Learning Disabilities; Depression, Anxiety, Mental Health Disorders, Eating Disorders, ODD; Other Neurological Conditions; Obesity, Type 2 Diabetes, and Metabolic Disorders; Untangling Mystery Symptoms, Complex Cases, and Co-Morbidities (having more than one condition); Mold Illness; Multiple Chemical Sensitivity; Lyme; Other Infection; and Addictions. Carla is on a revolutionary mission to empower families to transcend our new normal of ill health and chronic disease.
Tags: Carla Atherton, coronavirus, coronavirus health, coronavirus help, coronavirus prevention, coronavirus situation, coronavirus treatment, COVID-19, COVID-19 help, Health Coaching, Healthy Family Formula, immune system, protect family from coronavirus