Glyphosate Is Poisoning Our Children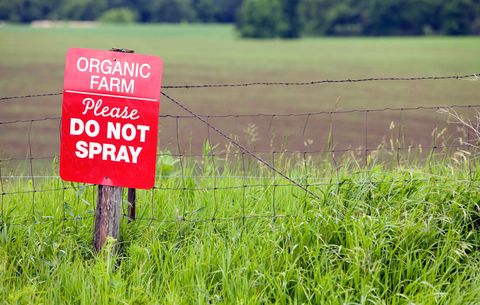 Photo from Good Housekeeping Website
Yes, I know, such a serious subject line for this post, but here's the deal.
I had the absolute honour and privilege to hang with Stephanie Seneff at the Environmental Illness and Genomics conference this past weekend! Who is Stephanie Seneff you ask? Only one of the most brilliant researchers walking the earth! Her message? Well, there are many, but the biggest take-away from her conference talk was that our bodies are experiencing metabolic mayhem due to glyphosate toxicity.
This has HUGE implications for the health of our families because, as Stephanie Seneff can so expertly explain, it could be the single-most disruptive and toxic metabolic disrupter of our time. Because glyphosate is the active ingredient in the pesticide Round-Up, just imagine what is contaminated, things that your family ingests or is exposed to every single day: our groundwater, our soil, our air from aerial spraying, the non-organic foods we eat on a daily basis, including the seemingly benign Cherrios™ our toddlers munch while learning to pluck up and eat their own food. Seneff postulates that it could even be in the fumes emitted from the vehicles we drive since it may contain ingredients made from, you guessed it, Round-Up ready crops. In other words, we cannot escape exposure, and until we follow the lead of the pioneering European countries banning its use, our families will continue to be exposed. So, what do we do?!
Stephanie Seneff is one of the biggest-hearted women I have ever met. She is also one of the smartest. She truly cares about the fate of the human race, about you, about me, about our children. And she is a scientist who reports not on dogma or beliefs or fads, but the theories that make sense once the data has been gathered. I liken her to a computer (a warm, kind computer, if that's a thing), and any input she is given is automatically synthesized with every piece connected to form the whole picture. I have never seen anyone be given a standing ovation at a conference before, but after her talk at the conference last weekend, everyone was on their feet. Why? Because she connected and identified one particularly insidious and harmful causal factor to almost ALL of the complicated dysfunction that causes the illnesses that every one of the other speakers was discussing during the three intensive 11-hour days we spent learning and sharing. Everyone listened mesmerized as Stephanie Seneff explained to us what she thinks is going on to create such suffering for people, and boy did we listen.
So, what do we do?
-Well, we eat organic. This is one of the recommendations I give ALL of the families I work with without exception. Yes, it's more expensive at times, and you can't get everything you want in its organic state, and organics are not perfect, but it they are much much better. Much better. In every way: less exposure to pesticides, supports organic farming (and the cost will come down as more people support), and reduces your contribution to the poisoning of our planet and all of the creatures on it, including the very bees that pollinate our crops.
-We don't spray our lawns and ask our neighbours not to spray theirs. Come on, weeding will get us exercising and out in the sun. My thought: if we all knew what the cost was, I am pretty sure that we would NEVER trade the health of our kids for a perfectly manicured lawn.
-We support organic agriculture and talk to our governing bodies about the ill effects glyphosate has on the health of our children.
And what about the rest? What about what we can't avoid or the poisons that have been accumulating in our bodies through a lifetime of exposure? How do we get them out? There is another tool we can add to our healing toolkit! Ever since I was introduced to the AMD IonCleanse footbath by a friend and colleague over at the Documenting Hope Project several years back, I have been first, intrigued, then highly interested, and then absolutely sold on its benefits, and one of those benefits is helping the body to excrete glyphosate. Such an amazing gift when we get informed and ask: "what have we done?!" and then come to the next question: "how can we fix it?" I was excited to learn about the studies the folks at AMD performed and to see diagnoses drop from the families that used them.
I had the privilege of interviewing Stephanie during the Children's Health Summit 4 AND Terri Hirning, the Real Food Mom and former "autism mom" (she is still a mom, but there is no more autism) about glyphosate and one of the most thorough yet gentle tools for glyphosate detoxification, the AMD IonCleanse, respectively. I would like to share these interviews with you here so that you can be empowered with this information, as well!
CHS 4 Interview with Stephanie Seneff: Glyphosate and the Environmental Chemical Assault with Devastating Consequences
CHS 4 Interview with Terri Hirning: Detoxification with the IonCleanse by AMD Footbath
Even though our world, itself, seems to be toxic to our families, and that can be very scary, we have tools at our disposal to both protect our children while more of us wake up and also to shift the current trend of chronic and complex illness and dis-ease. We have solutions.
Learn more about the AMD footbath here.
May you and your family be well.
Revolutionary Mama,
Carla.
Carla Atherton, MA, FDN-P, Family Health Coach, is the director of The Healthy Family Formula, host of The Children's and Teen Health Summit, author of the forthcoming book Family Health Revolution (release date: March 15th. 2019), editor, book junkie, research geek, insatiably curious mother of three grown (son age 20), almost grown (daughter age 18), and growing (daughter age 15) children, one of whom has Type 1 Diabetes. Carla lives on an acreage in rural Saskatchewan, Canada, where she works from a home office with families from all over the world on the reversal of conditions such as, Autoimmunity: Type 1 Diabetes, PANDAS/PANS/Autoimmune Encephalitis, Juvenile Rheumatoid Arthritis, and Celiac Disease and Non-Celiac Gluten Sensitivity; Asthma, Allergies, Eczema, and Reactivity; ADHD, Autism, Sensory Processing Disorder, Learning Disabilities; Depression, Anxiety, Mental Health Disorders, Eating Disorders, ODD; Other Neurological Conditions; Obesity, Type 2 Diabetes, and Metabolic Disorders; Untangling Mystery Symptoms, Complex Cases, and Co-Morbidities (having more than one condition); Mold Illness; Multiple Chemical Sensitivity; Lyme; Other Infection; and Addictions. Carla is on a revolutionary mission to empower families to transcend our new normal of ill health and chronic disease.
For more information or help with your own family's health journey, read more on this website, contact Carla, schedule a complimentary Meet and Greet with Carla, or learn about her Practitioner Training Programs for professionals and educational online Weekend Workshops for parents.