HFF De-Stress Sessions for Youth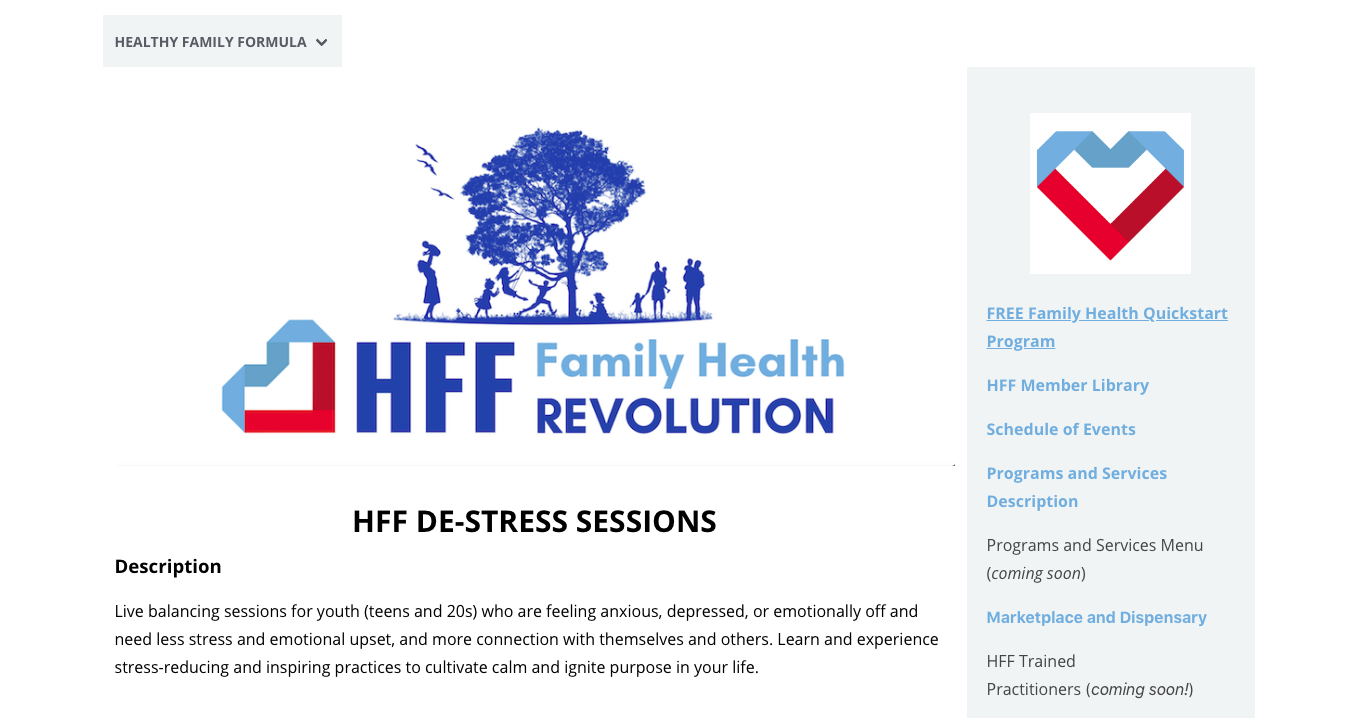 HFF De-Stress Sessions for Youth
We've been very busy creating an online membership home where we house ALL of our programs and services in order to give coherence and ongoing support to our current, new, and future clients. There we offer both individual and group coaching as well as programs, resources, and support.
One of our current focuses is on the mental and emotional health of our youth (high school and university age) who, despite me working with people in all manner of chronic conditions and health challenges, currently comprise 90% of new clients coming to me at this time. Our youth are struggling, and this is not OK. At all.
Therefore I am offering FREE weekly De-Stress Sessions for anyone who would like to attend. Participants DO NOT need to be current or active clients to join us, but do need to register.
Description
Live balancing sessions for youth (teens and 20s) who are feeling anxious, depressed, or emotionally off and need less stress and emotional upset, and more connection with themselves and others. Learn and experience stress-reducing and inspiring practices and techniques to cultivate calm and ignite purpose in your life.
Where
Zoom–link to be sent to you upon registration.
Dates and Time
Wednesdays at 7:00 Saskatchewan, Canada time
December 9th, 16th, and 30th
January 6th, 13th, 20th, and 27th
Steps to Register
Receive your login information via email.
Log in to our HFF Membership Site Home.
Find the De-Stress Sessions in our Schedule of Events page (found in the right toolbar of the Membership Site) and register for the session!
You only register once and can attend as many of the sessions as you like on a drop-in basis.
Note: If you wish to register for any of our other present or future offerings, you will not have to register as a client again and will use the same login to access our membership home at any time.
Please share this widely by providing the link to this page to anyone you think may benefit!
Alright, all for now.
Revolutionary Mama,
Carla.
Carla Atherton, MA, FDN-P, Family Health Consultant, is the director of The Healthy Family Formula, host of The Children's and Teen Health Summit, author of the forthcoming book Family Health Revolution (release date: January, 2020), editor, book junkie, research geek, insatiably curious mother of three grown (son age 22), almost grown (daughter age 20), and growing (daughter age 17) children, one of whom has Type 1 Diabetes. Carla lives on an acreage in rural Saskatchewan, Canada, where she works from a home office with families from all over the world on the reversal of conditions such as, Autoimmunity: Type 1 Diabetes, PANDAS/PANS/Autoimmune Encephalitis, Juvenile Rheumatoid Arthritis, and Celiac Disease and Non-Celiac Gluten Sensitivity; Asthma, Allergies, Eczema, and Reactivity; ADHD, Autism, Sensory Processing Disorder, Learning Disabilities; Depression, Anxiety, Mental Health Disorders, Eating Disorders, ODD; Other Neurological Conditions; Obesity, Type 2 Diabetes, and Metabolic Disorders; Untangling Mystery Symptoms, Complex Cases, and Co-Morbidities (having more than one condition); Mold Illness; Multiple Chemical Sensitivity; Lyme; Other Infection; and Addictions. Carla is on a revolutionary mission to empower families to transcend our new normal of ill health and chronic disease.
Tags: anxiety, depression, stress, stress reduction, youth stress