HFF Holiday Giveaway Event Registration Open!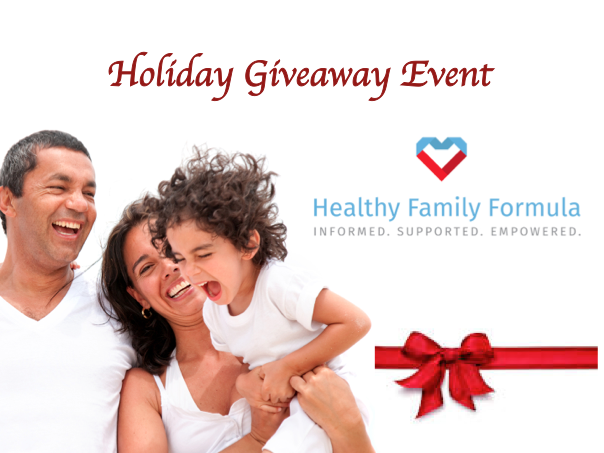 Please note that this event is now over, but do browse around our website for more of what we have going on right now!
I love the holidays. I love the calm and pleasant feelings I get when I am with friends and family; even the cold of the Saskatchewan winter is welcome when you are inside and warm.
Sometimes we associate the holidays with over-eating, lack of sleep, and stress, but I don't think it needs to be that way. I see the holidays and the new year as a time for rest and repair, a time to slow down and for reflection, and a time to nurture ourselves inside and out.
Tell me, what will you chose to experience this holiday season?
This year I am teaming up with a host of amazing people who would like to help you have a wonderful holiday season, and dare I say, good lifelong health.
Enter the HFF Holiday Giveaway Event! There, members of the HFF will enjoy a showering of gifts including:
An Audio Interview MP3: Raising Children Without Timeout, Threats or Punishment
Optimal Sensory Processing & Learning with Neurodevelopmental Movement Mini-Course
Dyslexia Detective Online Screening Program
7 Keys to a Peaceful Postpartum: What You Need to Know Before Giving Birth to Prepare Yourself for Life with a Baby
The New Mama Survival Guide
7 Day Behaviour Challenge
The Easiest Way to Peace & Joy for the Holidays and Everyday
And more!
These are just a few of the gifts we have waiting for you!
Learn more about the giveaway and register here!
Happy happy holidays, my friends.
Feeling very centered and grateful this holiday season,
Revolutionary Mama,
Carla.