Kids in Nature – The Importance of the Outside Connection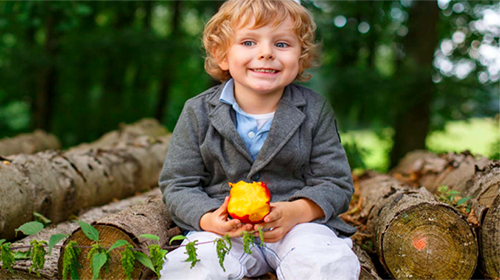 Well, spring is in the air, and we all know what that means: rubber boots, mud, and sunshine!
Kick those kids off of their iPods and computers. Give your kid a chance to be a kid. Encourage them go outside and play. Will they get dirty? Probably. And that's OK. Sometimes we forget the importance of being outside, how good it feels to be in nature, with our feet in the dirt, close to mother earth.
During our Children's & Teen Health Summit, Cliff Hodges, Adventure and Survivalist, Both In Nature and Civilization, spoke about the importance of getting kids outside. He said:
"But in addition to creating that nature connection, one of the reasons why I'm such a huge proponent of that kind of programming for kids, especially the extended kind of thing that your son is going on and the ten days out in the wilderness, is that it gives them a chance to be a kid. We live in a world now where we don't really let our kids just have free play much anymore."
Cliff also talked about a situation that if you were to put an adult and a young child out in a wilderness survival situation, for the first twenty-four to forty-eight hours of that situation, the parent would panic, whereas the child would listen to their instincts. If they felt cold, they would find a way to stay warm. Kids notice what the animals are doing, and they do the same thing. They try to stay warm and alive.
Kids understand nature because they have had less time in our modern environment to forget their connection to their natural world. When we all remember that connection, we become happier, more competent, more peaceful and more respectful of our earth and each other. We remember what really matters in life.
Now that spring has sprung, let kids play outside. They'll be happy, you'll be happy and they'll be healthier in mind, body and spirit. On second thought, why don't you go outside and play with them?!
To hear Cliff Hodges' full interview, check out the Children's & Teen Health Summit HERE