Optimizing Type 1 Workshop Materials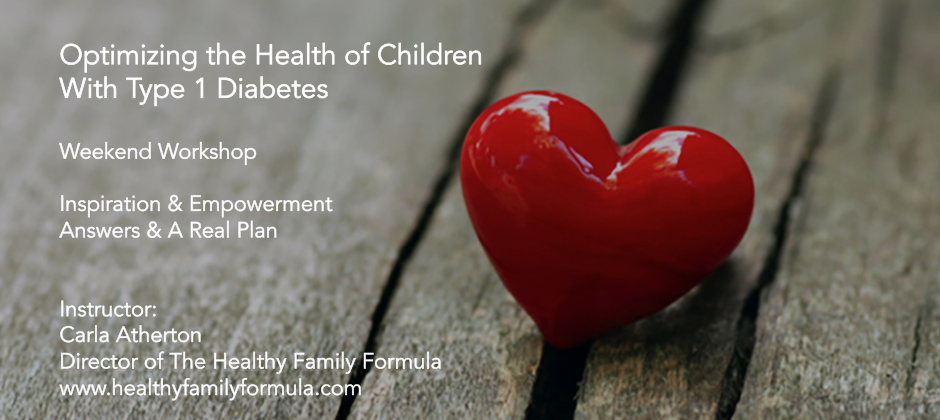 Thank you for attending the weekend workshop! I do hope that you got a lot of inspiration, empowerment, and direction for avenues of healing through immersing yourself in this progressive/functional/whole-child approach to Type 1 Diabetes. I am pleased to share with you all materials for the workshop below.
DISCLAIMER: The Healthy Family Formula, a Lotus Health Project, represents opinions and educational content only and is not intended to constitute medical advice. The Lotus Health Project disclaims any and all liability for any content delivered through the Lotus Health Project and makes no warranties or representations, express or implied, as to the accuracy or completeness of the information contained or referenced therein. All users agree that all access and use of this program is at their own risk.
Copyright © 2019 Healthly Family Formula. All rights reserved.
PACKAGE LINKS
Audio and video recordings of this weekend's lectures:
Session 1: An Introduction to the Functional/Holistic Approach to Type 1 Diabetes: Health for Children (and Teens) with Diabetes Is More than Just Bloodsugar Control
Session 2: Finding and Addressing Root Causes
Session 3: Comorbidities No One Is Talking About (But Absolutely Can Be Addressed)
Session 4: Powerful Lifestyle Interventions
Session 5: Mental and Emotional Considerations and Support
Session 6: Effects on the Family Unit, the Community, and Circle of Friends
Session 7: Therapies Beyond the Pump, Syringes, and Technology
Session 8: Making Healing Plans (That Work!)
Session 9: Moving Beyond the Diagnosis
Session 10: Wrap-up, Q and A, and Discussion
Workshop Materials
List of Resources, Books, and References
Bonus Materials
Creating a Safe and Nurturing Environment for Your Family
Creating a Health History Timeline
Amendments and Additions
Because the weekend was so crazy packed, I didn't get the chance to expand on a few subjects as much as I had wanted. Therefore, I am creating separate BONUS materials that I think you will find very useful. Watch your inbox in the new year for the following NEW materials:
Healing Modalities and Therapies (coming soon!)
List of Beneficial Supplements for Children and Teens with Type 1 Diabetes (coming soon!)
Lifestyle Interventions for Reversing Chronic Illness (coming soon!)
Create Your Child's Plan (coming soon!)