Optimizing Type 1
The Optimizing the Health of Children (and Teens) with Type 1 Diabetes Workshop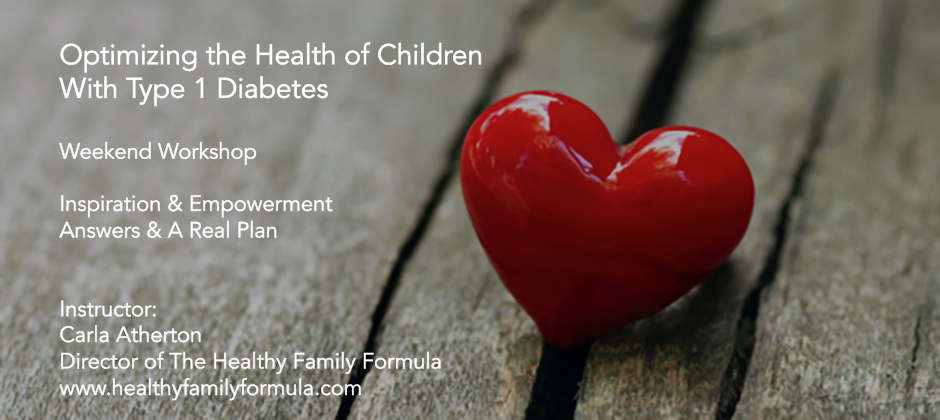 Are you ready to break free of the medical paradigm that keeps your child sick?
Have you been told that matching insulin to carbs is all that matters in diabetes care?
Have you been told that higher sugars are fine for children, when you know darn well that they're not?
Are you ready to get off of the emotional and physical roller coaster of chronic illness and help your child take charge of his or her health?
Could life be a little easier and the focus on other things such as living and having fun with your children?
Do you know that there is a LOT more you can do for your child with diabetes but need to know exactly what?
10-Session Weekend Workshop
In one weekend spent together online, we cram in as much as I can teach you not about managing Type 1 Diabetes but transcending the diagnosis.
PURCHASE THE RECORDINGS OF THE DECEMBER 2018 SESSION FOR ONLY $100CDN
3-Hour Creating Your Child's Healing Plan Interactive Workshop
Date: Saturday, March 16th, 2019

Time: 1:00pm-4:00pm (Saskatchewan, Canada time: please look this up and adjust to your own timezone)
Description: Now that you have the information you need to create a healing plan for your child, let's do something with what you have learned. Join me for a group session where parents and caregivers learn how to make a solid, sustainable, and personalized healing plan for the children they care for. No more frustration and confusion about what to do next. Come out of the workshop with a plan and the support and encouragement needed to see it through.
Hour 1: Introduction to the Healing Plan
Hour 2: Create Your Child's Healing Plan
Hour 3: Q and A, Fine Tuning, and Wrap-Up
Cost for the 3-Hour Workshop: $300 for the 3-hour healing plan workshop and includes intake (Carla's preliminary review of your child's needs and health history) and the recordings of the full Weekend Workshop (10 dynamic, info-filled sessions!) that was delivered in December, 2018.
Space is limited.
REGISTER FOR THE 3-HOUR PLANNING WORKSHOP + RECORDINGS HERE
Upcoming LIVE Workshop Dates
April 5, 6, and 7th, 2019
The workshop will be delivered LIVE online
Attend from the comfort of your own home
Connect with other parents
Ample opportunity to participate in the discussion and ask questions both during the workshop and forevermore through our NEW facebook group

Receive links to the recordings and materials for future reference or if you can't make all of the sessions
Find the right information that you need: responsible, thoroughly researched, cutting-edge, actionable
Create your own child's healing plan in an additional 3-hour session ($300 value. Date TBD)
Move beyond the diagnosis
Sessions in Detail
Session 1

An Introduction to the Functional/Holistic Approach to Type 1 Diabetes:

-Defining Diabetes

-Root Causes

-Autoimmunity

-What Have We Been Missing?

Session 2

Finding and Addressing Root Causes

-The Usual Suspects

-Functional Lab Testing

Session 3

Co-morbidities No One Is Talking About

-Diabulimia

-Depression and Anxiety

-Other Autoimmune Conditions

-Other Metabolic Issues

-Infection

Session 4

Powerful Lifestyle Interventions

-Environment, Exercise, and Sleep

-Stress Reduction

-Improving the Immune System

-Balancing the Microbiome and Healing Hyperpermeability

-Nutrition and Supplementation

Session 5

Mental and Emotional Considerations and Support

-Addressing and Overcoming Trauma

-Shifting from Sickness Mentality to Healing

-Tools for a Healthy Mindset

Session 6

Effects on the Family Unit, the Community, and Circle of Friends

-Special Challenges for Parents (and families) of Children and Teens with Type 1

-Special Challenges for Children and Teens with Type 1

-Who Am I in All of This?: Seeing and Nurturing the Whole Child

-Teaching Self-Care to Children and Teens

-Caring for the Caregivers

Session 7


Therapies Beyond the Pump, Syringes, and Technology

-Whole-Person Therapies and Practices

-Creating a Safe and Nurturing Environment for the Whole Family

-Finding Supports

-Building Your Healthcare Team

-Educating Family and Friends

Session 8


Making Healing Plans (That Work!)

-Halting the Autoimmune Process

-Addressing Your Child's Bioindividuality and Unique History

-Putting It All Into Action

Session 9


Moving Beyond the Diagnosis

Session 10

Wrap-up, Q and A, and Discussion
Workshop Goals
Better bloodsugars, better moods, less sick days, and a long and healthy life come with a healthy body and mind, despite a diagnosis. By teaching you a holistic approach based on the principles of functional medicine and lifestyle interventions, my goal is to have you come out of the workshop empowered with new skills, tools, support, and information that will enable you to exponentially elevate your child's health.

About Your Instructor
As you might already know, Carla (me) is the director of the Healthy Family Formula, an initiative that brings education, resources, and support together to empower families to reverse chronic illness, prevent disease, and basically, live a full-on healthy life. She is also the mother of three children, one of whom has Type 1 Diabetes. Almost 7 years after the big D-day, thousands of hours of research, endless study and further education, and becoming a professional in the family health arena, Carla brings all she has learned to other parents who want to lift labels and put into practice the methods and strategies that will help their children to soar.