A Parent's Guide to Natural Remedies with Wendi Combes and Roxanne King Jubilee Health and Holistic Mama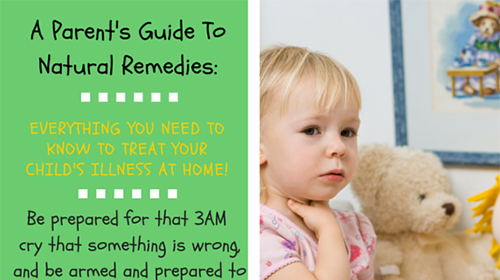 Did you know that the CDC estimates that 5 out of 6 children will experience an ear infection before the age of three? Did you also know that the typical treatment of an ear infection is a round of antibiotics? And now the CDC recommends judicial use of antibiotics to prevent antibiotic resistance for when we REALLY need them. So what is a parent to do?
Do you want to learn about safer and gentler option in the form of natural remedies for common ailments like ear infections?
Do you want to be able to use natural remedies in your child, too? Do you want to learn to use them safely and effectively in your own family?
You can do it easily from the comfort of your own home and the pace you desire through the online class:
A PARENT'S GUIDE TO NATURAL REMEDIES: Everything you need to know to treat your child's illness at home!
Take this class, and you will be confident to treat fever, sore throat, cough, cold, ear ache, and even the dreaded tummy bug all with natural remedies that work with the body instead of against it!
Help your child feel better quickly and safely!
This online class will provide:
What natural remedies like homeopathy, cell salts, herbs essential oils (and more) are
How to use them safely in effectively in your family
Where to find these remedies
Which ones are the best ones to have on hand for common illnesses in children
How to treat common ailments like fever, sore throat, ear ache, cough, cold, and the tummy bug
What remedies to use for first aid and injury
Know when to call the doctor
An online membership to have access to information 24/7
Downloadable quick reference guide so you will know what remedies to use and when
This class is taught by a pediatric nurse and fellow mom with over 20 years of experience (Wendi Combes of Jubilee Health) and a holistic coach and also fellow mom (Roxanne King of the Holistic Mama).