PODCAST APPEARANCE ON THE TOURIST! The Beginners Guide Functional Health Coaching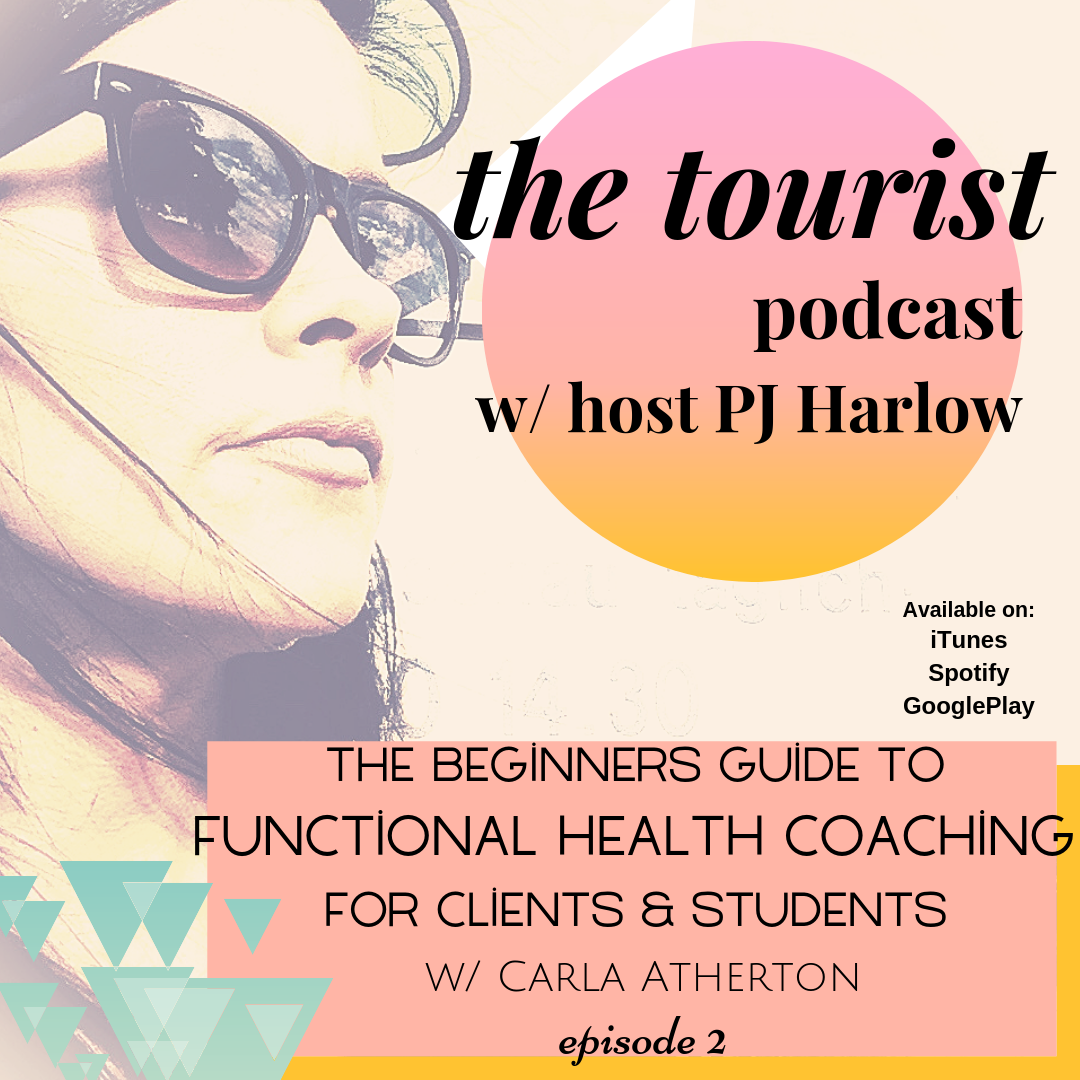 I am so excited for the release of this podcast episode: The Beginners Guide Functional Health Coaching where we discuss elevating our families from the depths of chronic illness! Everyone, please listen, like, share, and support this exceptionally important show.
Here is what PJ Harlow had to say about our revolutionary conversation!
"New podcast episode of The Tourist for your commute to work on this happy Monday!
I made it to episode #2 with my mentor & friend Carla Atherton who is the director of Healthy Family Formula & producer of the Children's Health Summit.
PJ & Carla break down the medicalization of health as we know it while illuminating the rise in chronic illness, childhood epidemics and the simple fact that many people aren't finding answers & healing where they once did. As they talk about our own families experiences with chronic illnesses & how they both came into Functional Health, they discuss the common patterns of denial, low expectations and feeling abandoned by the system. They go deep into some of the barriers & obstacles families, parents, caregivers & individuals are currently facing.
Both energetically describe their rising occupation of functional health coaching, the concepts & foundations that it's based on, what exactly coaches do, how functional coaches differ from other health coaches, and why you may consider this as an option in your healing vs. traditional medicine. Additionally they identify the qualifications of what it takes to dial into this growing niche profession, which Carla also teaches as the Curriculum Director of Healthy Family Formula's Certified Practitioners Program.
PJ & Carla have an amazing connection & vibe; it's an episode that keeps you invested the entire time, especially if you find yourself, tired, sore, and struggling with unidentifiable or chronic health issues. With some sobering topics on the table, it's a loose & sometimes humorous conversation packed with eloquent wisdom & realistic truths. As usual, PJ doesn't hold back with her raw perception & relative boomeranging points, as her own personal experience tie into this podcast.
Carla discloses some of her techniques & concepts for her students and clients as well, mixed with both her personal & professional philosophies.
Carla has interviewed over 200 expert health professionals with her annual Children's Health Summit and doesn't fail to bring the goods in this interview.
We are excited to get her new book, Family Health Revolution which is on Pre-sale now & drops this summer. Both a novel & a reference book for families looking for answers, you are bound to find value in both her book and this episode.
INCLUDED IN THE EPISODE:
How Carla became a Functional Practitioner & her personal story.
Is Chronic Illness on the rise?
Current Statistics of Childhood & Adult Illnesses.
What does Health mean to you?
The normalization of feeling unwell.
What is Functional Health?
What is a Functional Health Coach?
The concepts of what Carla does for her clients & what she teaches her students.
Feeling abandoned by the medical system, friends & family when your chronically sick.
What are your expectations of your health care provider?
Health Concepts & The new Health Revolution.
Obstacles in healing & solutions for getting well."
Subscribe, rate, and "like" the show and take a moment to leave a comment.
Available on iTunes, Spotify, GooglePlay & Stitcher