Regenerate Yourself Masterclass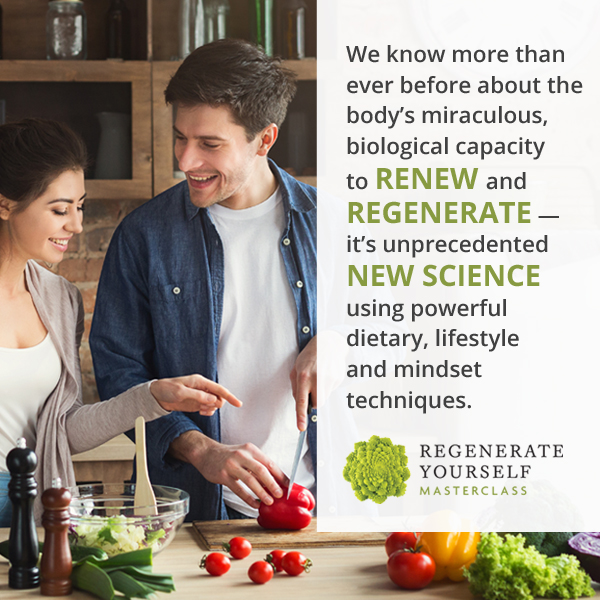 Having my finger on the pulse of cutting edge health science, the trends of both the natural and functional health world, and knowing a lot of people doing amazing work to help families get well, I receive a steady flow of information, and I get a lot of emails. Like, a lot. And I have to sort them into the read now pile, some into the later pile, and some just have to go.
But one email I didn't miss was Sayer Ji's email letting me know about his current project, Regenerate Yourself. In fact, his email shone like a diamond, poked up to the shimmering surface of the vast sea of information in my inbox. Why? Well, for one, because this email was from Sayer Ji (duh). And more specifically, because Sayer is one of the few people I implicitly trust to give us the truth no matter what and to do his homework on our behalf. Sayer's messages and mission are true and pure. He cuts to the core of what we need to do to regain not only the health of our families but also our earth. And like a crow, I spotted that jewel in my inbox like it was the only thing in there. Hence, today's blog for you. 
Although it should have been, my first Children's Health Summit was not exactly a smash hit. The numbers were low, and we decided to regroup and relaunch the summit so that we could reach more people. That was when I was introduced to Sayer Ji who I invited to speak. His passion and plethora of information added some much-needed breath into a new initiative started by a mama on a mission with 90 people on her initial newsletter list. Although our numbers were climbing with the support of some pretty fantastic health crusaders, until Sayer was onboard, it was still a trickle, and when people knew he was speaking for the summit, our sleepy little village became a booming community of thousands more. Why? Because people trust Sayer. They listen to him. And for good reason because he not only talks about change but makes it happen.
I was floored by the depth and power of Sayer's GreenMedInfo website as well as his character and personal philosophies. It was from then on that I knew I was finding my tribe with Sayer and the others I have unearthed on my revolutionary mama mission, and (hopefully) this has become your tribe, as well.
Today, Sayer is launching a program to help bring his wisdom to others in a whole new way, to help people to do the work of regenerating their health, and man am I excited to share it with you! I am extremely choosey as to what I recommend, and despite the fact that I am developing my own programs, I am wholeheartedly recommending that you MUST embark on Sayer's life-changing journey, what he calls a "masterclass."
Now, who wouldn't want to be the master of their own health regeneration?
So, what is it? Let me allow Sayer's team to tell you more: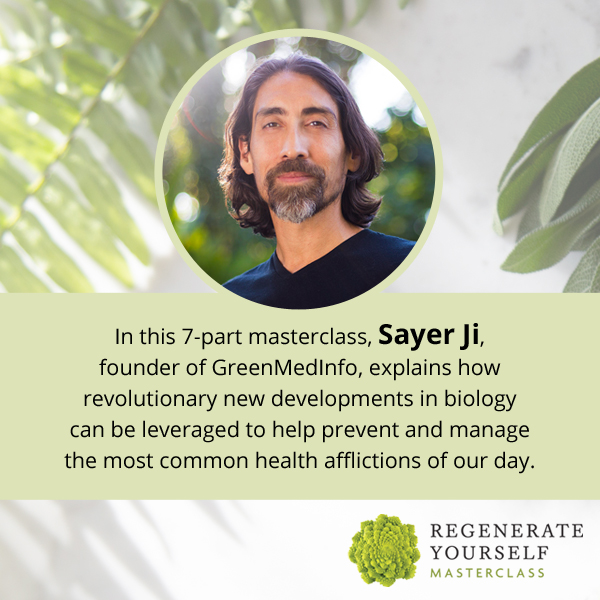 "We know more than ever before about the body's miraculous, biological capacity to RENEW and REGENERATE — it's unprecedented NEW SCIENCE using powerful dietary, lifestyle and mindset techniques to reach your healthiest, happiest and most resilient you!
Sayer Ji's Regenerate Yourself Masterclass is online and free from February 24 – March 1, 2020 — click here to register for free now! 
With accelerated aging, chronic disease and a growing sense of depletion having reached epidemic proportions, modern medicine and human health are at a critical crossroads.
The truth is: your genes are NOT in control of your health destiny. YOU can make informed decisions about using and nourishing the evolutionary miracle that is your body.
WHY ATTEND?
In this 7-part masterclass, Sayer Ji, founder of GreenMedInfo, explains how revolutionary new developments in biology can be leveraged to help prevent and manage the most common health afflictions of our day: cancer, heart disease, neurodegenerative diseases and metabolic syndrome.
Radical resilience, not disease, is your body's destiny!
Join us at this masterclass to unlock your radical resiliency by learning:
Fascinating new science of "food as information"

Using spices, common foods and culinary techniques as "medicine"

Facts about cancer and heart disease screening (and prevention!)

How your body extracts energy from sources other than food

To reverse the most common forms of degeneration (with food!)

Regenerative, simple fitness practices with maximized effects

Sorting through conflicting, out-of-date dietary recommendations

And so much more!
Antiquated thinking and scientific dogma have long obstructed true understanding of our innate untapped potential for self-regeneration and radical healing. However, biological time is NOT a downward spiral and chronic illness is NOT inevitable when you learn to implement nature's tools of resilience. 
Encoded within every tissue of your body is the ability to regenerate; mechanisms that provide you with the right to a life of joy and vitality.
In this masterclass, Sayer will help you unlock "radical resiliency" with cutting-edge scientific findings, ancestral wisdom and health-promoting practices — with these tools you'll optimize your diet, maximize exercise results, reduce stress and cultivate a thriving environment."
Because I spend my time with people who continuously inspire and elevate me, I will most certainly be there in the Masterclass along with you! Join us FREE here!
I AM EXCITED!
May you and your family be well.
Revolutionary Mama and Director of the Healthy Family Formula,
Carla.
Carla Atherton, MA, FDN-P, Family Health Coach, is the director of The Healthy Family Formula, host of The Children's and Teen Health Summit, author of the forthcoming book Family Health Revolution (release date: March, 2020), editor, book junkie, research geek, insatiably curious mother of three grown (son age 21), almost grown (daughter age 19), and growing (daughter age 16) children, one of whom has Type 1 Diabetes. Carla lives on an acreage in rural Saskatchewan, Canada, where she works from a home office with families from all over the world on the reversal of conditions such as, Autoimmunity: Type 1 Diabetes, PANDAS/PANS/Autoimmune Encephalitis, Juvenile Rheumatoid Arthritis, and Celiac Disease and Non-Celiac Gluten Sensitivity; Asthma, Allergies, Eczema, and Reactivity; ADHD, Autism, Sensory Processing Disorder, Learning Disabilities; Depression, Anxiety, Mental Health Disorders, Eating Disorders, ODD; Other Neurological Conditions; Obesity, Type 2 Diabetes, and Metabolic Disorders; Untangling Mystery Symptoms, Complex Cases, and Co-Morbidities (having more than one condition); Mold Illness; Multiple Chemical Sensitivity; Lyme; Other Infection; and Addictions. Carla is on a revolutionary mission to empower families to transcend our new normal of ill health and chronic disease.
Tags: Carla Atherton, family health, green med info, health program, Healthy Family, Healthy Family Formula, holistic type 1 diabetes management, regaining health, regenerate health, regenerate yourself, sayer ji