Sheepdog Parents and the Violent Media Wolf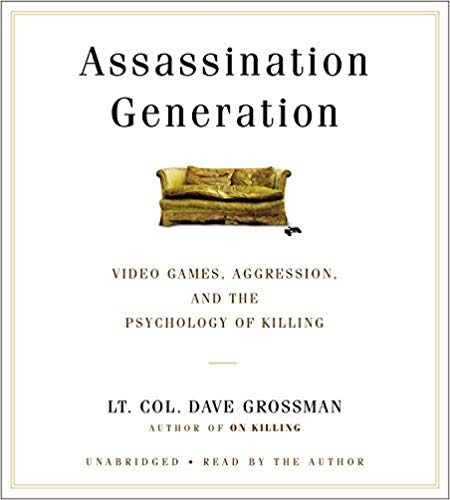 Who Is Watching Your Tender Flock?
by Carla Atherton, Director of the Healthy Family Formula
Yesterday, I rolled the dice on what podcast I would listen to while I was embarking on yet another long country drive, and the numbers landed me on a Bulletproof Radio Podcast episode with Lieutenant Colonel Dave Grossman. It turned out to be HANDS DOWN one of the THE MOST important podcasts every parent needs to listen to NOW. Especially parents of children and teens who play video games.
I have been very concerned for many years now about the detrimental effects media and technology definitively have on our children's mental, spiritual, emotional, and physical health; and these effects are many and affect every aspect of our children's beings.
Violent media:
Dysregulates the Central Nervous System
Affects the delicate neurochemical balance in the brain
Alters brain pruning and development
Can cause trauma and PTSD
Causes addictive behaviours
Steals time away from relationship, family, friendship, adventure, and joy that happen in real life
It is even changing the anatomy of the human hand in ONE generation
The list goes on and on and on…
But what Lieutenant Colonel Dave Grossman talks about in this podcast goes beyond even that. If you think that video games and violent media do not make our children more prone to harming themselves and others in real life, listen to this podcast, then tell me you still believe that.
I agree with Dave that this "digital crack" is not unlike child abuse from an industry making a lot of money at the expense of our children's mental and physical wellbeing and should be categorized with other things we would NEVER allow into our children's lives such as alcohol, drugs, and pornography. I'm with Dave when he passionately asserts that we need to protect our children from the assaults violent media not only conveys as "reality" but actually imposes upon our children. In other words, our children are being abused by violent media. And we are letting it happen.
Violent media makes you feel just plain overwhelmed, crazy, or even the opposite: apathetic and numb! It is messing with our children's mental health, contributing to the escalation of homicide, suicide, and other violent acts such as emotional, mental, and sexual abuse. If you need proof, read Dave Grossman's books (one being Assassination Generation) or visit his website. I am working on snagging him for an interview, so stay tuned for that, as well.
Parents, this is more than cause to be concerned and to say "no more!" because, not only does overuse or even occasional misuse of technology hurt our children's bodies, it hurts their spirits and their minds, and as Dave Asprey told his son, it hurts their hearts. And those hearts are precious.
I listened to this podcast with keen interest, nodding my head with every punch of Lieutenant Colonel Dave Grossman's words because the evidence and conclusions he presented were living proof of what I both intuitively felt and found to be true in my own experience in this world. I listened with concern as his words confirmed the worst of my fears. I even cried listening to some of the actual stories of children and teens who were lost to unsuspecting parents. And lost to what?! Just a G-D waste! It saddens me, enrages me, that dots on a screen can pull our children away from the lives they were meant to rock.
Perhaps I am a figurative sheepdog; I am willing to kill a false belief, bring down the facade the big media companies flourish behind, for the betterment of the flock, for the sake of the most precious and delicate among us. And I encourage you to be one, too.
Here is the link to the Bulletproof episode. Listen with open minds, parents. It will blow you away.
Carla Atherton, MA, FDN-P, Family Health Coach, is the director of The Healthy Family Formula, host of The Children's and Teen Health Summit, author of the forthcoming book Family Health Revolution (release date: March 15th. 2019), editor, book junkie, research geek, insatiably curious mother of three grown (son age 20), almost grown (daughter age 18), and growing (daughter age 15) children, one of whom has Type 1 Diabetes. Carla lives on an acreage in rural Saskatchewan, Canada, where she works from a home office with families from all over the world on the reversal of conditions such as, Autoimmunity: Type 1 Diabetes, PANDAS/PANS/Autoimmune Encephalitis, Juvenile Rheumatoid Arthritis, and Celiac Disease and Non-Celiac Gluten Sensitivity; Asthma, Allergies, Eczema, and Reactivity; ADHD, Autism, Sensory Processing Disorder, Learning Disabilities; Depression, Anxiety, Mental Health Disorders, Eating Disorders, ODD; Other Neurological Conditions; Obesity, Type 2 Diabetes, and Metabolic Disorders; Untangling Mystery Symptoms, Complex Cases, and Co-Morbidities (having more than one condition); Mold Illness; Multiple Chemical Sensitivity; Lyme; Other Infection; and Addictions. Carla is on a revolutionary mission to empower families to transcend our new normal of ill health and chronic disease.
For more information or help with your own family's health journey, read more on this website, contact Carla, schedule a complimentary Meet and Greet with Carla, or learn about her Practitioner Training Programs for professionals and educational online Weekend Workshops for parents.
Tags: bullying, Carla Atherton, children and video games, Healthy Family Formula, teen suicide, teens and video games, teens and violence, violent media