Support Our Campaign!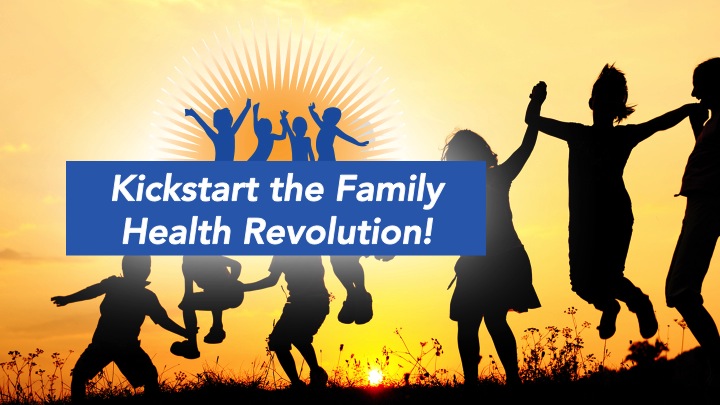 "When my own daughter received an upsetting diagnosis of Type 1 Diabetes in 2012, my family and I were launched into a new life of needles and doctors and dead ends. And after experiencing the ups and downs of parenting a child with chronic illness and recognizing what was not available to me and my family, I found the answers, myself. I set out on a mission to make sure that I would be the support I had so much trouble finding, to provide the information I spent years gathering with as many parents who need it, and wrote a book that contains everything I have learned."
Family Health Revolution: Use Lifestyle Medicine to Overcome Disease, Illness, and Discomfort, Demedicalize Family Health, Slow Down Fast-Paced Modern Family Life, Reduce Stress, and Return Your Family to the Ease of Good Health, Naturally is not just another book about family health, but the definitive guide and resource for families who want concrete answers and natural strategies to not only manage, but elevate, their family's health in our modern fast-paced world.
Release Date: January 2nd, 2018
ADHD, Alzheimer's, autism, obesity, autoimmunity, diabetes, heart disease, stroke, fatigue, learning disabilities, mood disorders, eczema, allergy, asthma, and general malaise are just some of the conditions, diseases, and illnesses people are succumbing to in epic proportions, and even when their symptoms are undiagnosable or not defined according to any particular disease, people are coming to their healthcare professionals feeling not quite right, dragging, tired, never really well. It is reported that 10% of children in the US have ADD/ADHD and 17% are labeled as "learning disabled," most schools are peanut-free zones due to the staggering number of children who have anaphylactic reactions, and with autism rates climbing from 1 in 150 in the year 2000 to 1 in 68 in 2013, if this trend continues, a whopping 50% of our children will have autism by the year 2032! Why? What is happening? And what can we do about it: for our selves, for our children, and for our future generations?
We know there is more to family health than the new normal of sub-optimal health we are now experiencing. Mamas, papas, grandparents, and caregivers strive for more for their families. Family Health Revolution will inform, inspire, and empower you so you can make. that. sift. happen! To recovery. To ease. To vitality.
A Peek Inside the Book:
Our new normal
Stopping chronic illness in its tracks
Redefining our children's new normal
The medicalization of family health
How our environment is drastically affecting our health
Lifestyle foundations upon which to build family health
Slow family living for health
Parenting for health
Caring for caregivers
Teaching self-care to your children
Advocacy and navigating the healthcare system
Reclaiming your family's health
Your natural medicine cabinet
How to return to the ease of family health
And more! (I don't want to give it all away)
Plus a dozen appendices containing guides to help you get organized and stay on your own, personal track to wellness.
Beautifully illustrated and brimming with resources and information about not only the what and why of family health, but also the how. This book answers the questions many parents and caregivers are asking: how do I become empowered to turn our new normal of ill health on its head and reclaim my family's health? How do I keep my kids healthy in this unhealthy world?
We need this book. We need this revolution.
May you and your family be well,
Revolutionary Mama,
Carla.
Please like our facebook page to follow AND SHARE what we are up to at the HFF (the books, the programs, the research, the inspirational and informative articles, videos, podcasts, and other information), and if you want more of the same and also join the discussion, ask questions, and share the research, videos, and podcasts you discover with other caregivers who want better health for their families, join our Children's and Teen Health Community discussion group!
Tags: asthma, autism, brain health, child obesity, children, children's health, children's nutrition, family health, family medicine, functional medicine, gut health, health book, lifestyle medicine, mental health, nutrition, obesity, teen health, teens