The Children's Health Summit 4 Is Here!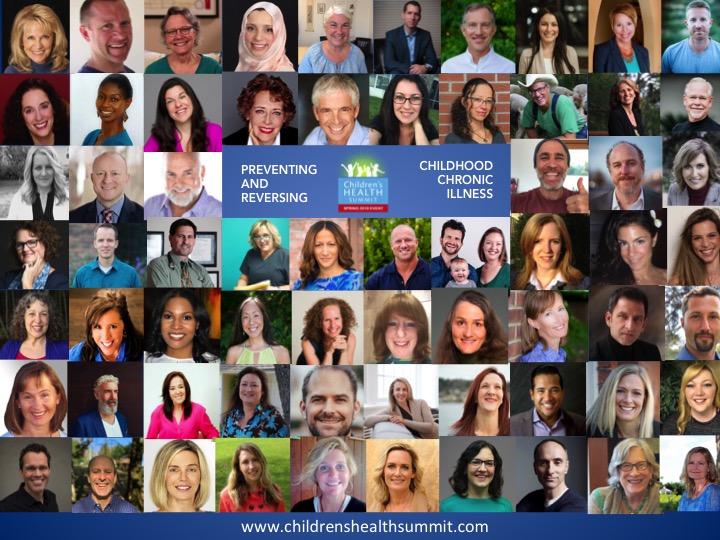 Drumroll, please!!!!! Hundreds of hours of work and some pretty hectic days later, we are ready to announce the line-up for the Children's Health Summit 4! And IT. IS. FANTASTIC!
Reserve your free spot to listen online at www.childrenshealthsummit.com
Day 1 May 13
Intro to Childhood Chronic Illness
Carla Atherton: Coaching Your Family Into Health (Heather Korbmacher)
Dr. Michelle Perro: What's Making Our Children Sick?
Beth Lambert: Documenting Hope, The CHIRP Study, and the Role of Research in Root Cause Resolution
Josie Nelson: Cracking Tough Cases
Dr. Madiha Saeed: Heal and Reverse Chronic Disease in All Ages— Even on a Budget!
Dr. Martha Herbert: The Brains of Our Children on a Planet in Crisis: Powerful Lessons for a Viable Future
Day 2 May 14
Mental, Emotional, Spiritual, and Relationship
Carla Atherton: Healing Our Epidemic of Depression and Anxiety (Detria Branch)
Carla Atherton: A New Generation of Addiction (Dori Abbott)
Tommy Rosen: Beyond Addiction: Your Kids and The Great Inner War
Niki Gratrix: The Vital Importance of Emotional Health
Naomi Aldort: Transforming Parent-Child Relationships
Dr. Sandy Gluckman: Non-Inflammatory Parenting: The Missing Link in Healing Learning, Behavior, and Mood Challenges in Children
Day 3 May 15
Autoimmunity, the Immune System, and Childhood Cancer
Carla Atherton: A Novel Approach to Type 1 Diabetes (Sutton Healy)
Dr. Brandon Brock: The Role of Functional Neurology and Chiropractic in Brain Autoimmunity and Developmental Disorders
Dr. Tom O'Bryan: Take No Prisoners! Neurodegeneration, Reactivity, and Autoimmunity
Dr. Ayla Wilson: Identification and Treatment of PANDAS/PANS
Dr. Nasha Winters: Prevention Is the Only Cure: Taking on Childhood Cancer
Dr. Ty Vincent: LDI for Immune Inflammatory Problems in Children
Day 4 May 16
GI, Atopic, Allergy, and Asthma
Maria Rickert-Hong: Brain Under Attack: PANS, PANDAS, Lyme, OCD & Anxiety
Dr. Natasha Campbell-McBride: The Role of Gut Healing and the GAPS Diet in Childhood Chronic Illness
Dr. Kiran Krishnan: Deep Dive: The Microbiome at the Root of Your Child's Health
Dr. Elisa Song: Allergy, Asthma, MAST Cell Activation, Histamine, and Reactivity
Dr. Jill Carnahan: Is Mold Making Your Family Sick?
Jess Sherman: Feeding Your Kids Without Losing Your Sanity
Day 5 May 17
The Brain, Sensory Disorders, Autism, and ADHD
Dr. Phyllis Books: Dyslexia, ADHD, Allergies, and the Brain
Dr. Angela Knapp: Naturopathy, Neuro-sensory Challenges, and Down Syndrome
Patricia Lemer: Vision Issues in Autism and ADHD: More Than Meets the Eye
Dr. Andrea Libutti: How Mindfulness in Autism is the Key to Healing
Dr. Robert Melillo: Reconnecting Disconnected Kids
Sonia Story: 3 Keys to Overcoming Anxiety and Sensory Processing Issues
Day 6 May 18
Causes
Lloyd Burrell: How to Protect Your Kids from the Shocking Effects of Cell Phones and Similar Technologies
Dr. Victoria Dunckley: Is Screentime Damaging Your Child's Brain?
Rachel Fresco: Botanical Support for Pathogenic Infection
Michael McEvoy: Epigenetics: Our Power Over Chronic Disease
Dr. Christine Schaffner: Could Retroviruses Be Fueling Your Child's Chronic Illness?
Pam Machemehl-Helmly: Brain Health: Surprising Factors that Play a Role in Imbalance
Day 7 May 19
Causes Part 2
Stephanie Seneff: Glyphosate and the Environmental Chemical Assault with Devastating Consequences
Dr. Christopher Shade: Identifying and Detoxing Heavy Metals
Jeffrey Smith: GMO as THE Main Causal Factor for Human Chronic Conditions: An Indisputable Argument
Peter Sullivan: A Father's Deep Dive Into EMFs to Recover His Sons
Dr. Todd Watts: How Parasites Are Affecting Your Children
Serenity Carr and Joe Carr: Infant Nutrition: Every Bite Counts
Day 8 May 20
Begnnings, Basics, and Prevention
Carla Atherton: Pre-Natal and Post-Natal Health For Mom and Baby (Courtney Homer)
Jason Prall: Ensuring Youngevity from Birth to Old Age
Ian Clark: Whole Body Remediation for Prevention, Healing, and Longevity
Cilla Whatcott: Exercising the Immune System to Create Real Immunity
Anat Baniel: Anat Baniel Method® NeuroMovement®: The Power of Brain Change to Heal and Transform the Life of the Child with Special Needs
Stephanie Newton: Homeopathy and Childhood Acute and Chronic Illness
Day 9 May 21
Elevating Our New Normal
Carla Atherton: Treating the Whole Child for Idiopathic Juvenile Arthritis and Other Chronic Childhood Illness (Tiffany Thompson)
Reed Davis: A Simple Strategy for Chronic Illness
Tara Hunkin: Drinking From the Firehose: How to Overcome Overwhelm and Find the Right Treatments for Your Child
Tyler Lewis: Mapping a Healthier Future for Our Children
Heather Korbmacher: Managing Behavioral Symptoms in the Home and School Settings
Joel Salatin: Family Farms, Gardens, Cooking, and Connection: Returning to the Nature of Things
Day 10 May 22
Solutions, Whole Child Therapies, and Possibilities
Carla Atherton: Mindful Change (Ita Teigman)
Lora Brady: Advanced TRS – A Safe and Effective Detox Method
Dr. Brett Brimhall: Nutrigenomics, Supplementation, and the NrF1 and NrF2 Pathways
Larry Doochin: The Healing Power of Human Sound
Kirk Gair DC: Can Lasers Help Improve Kids' Brain Function, Sports Performance, and Overall Health?
Terri Hirning: Detoxification with the IonCleanse by AMD Footbath
Day 11 May 23
Solutions, Whole Child Therapies, and Possibilities Part 2
Carla Atherton: Vitamin N, Creativity, Meditation, and Play (Kirstie Gran)
Dr. Monica Scales and Dr. Maia Walton: Beyond the Basics: Advanced Interventions for Autism, PANS/PANDAS, ADHD, and Other Childhood Conditions
Heather Korbmacher: The Therapeutic Effects of Essential Oils
Kurt Woeller: Biomedical Treatments for Childhood Chronic Illness
Dr. Stuart Nunnally and Dr. Candice Owens: Holistic Dentistry: True Root Cause Resolution
Dr. Zach Bush: Restoring the Health of Our Children, Our Children's Children, and Our Planet
And we air May 13th-23rd!! Reserve your spot now!
If you have never attended an online health summit before, just sign up for free and watch your inbox for the links to the talks. Watch at any time on the day those talks air. Simple!
Is there something on that list that you want to learn more about? Join us for the family health event of the year!! And share with all of the people you care about.