The CHS 4's a Wrap!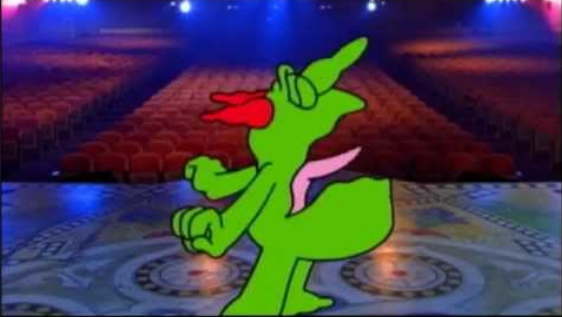 (image copyright Just for Laughs)
In the words of the little green-alien-mascot-guy on the Canadian comedy TV show Just for Laughs: "mommy, it's ooovvvveeeer!" Like the birth of a child, the closing of the CHS 4 event is both a relief and a reason to feel a wee bit empty, just for a moment or two. There is the sadness of an ending but the excitement of a job well done and a new beginning.
So, first, I want to thank all of the speakers who gave us their time, energy, and a glimpse into their brilliant brains to come together for the good of all of the children we collectively care for. THANK YOU!
And I would also like to thank Marek Fafara of Power On Design who was the ONLY support person I had through the production of this giant summit working tirelessly and expertly on the back end putting together the website, coding, programming, all of that computer/web stuff that brought this experience to you. If you ever need anything web-based, hit him up. There are very few like him: brilliant, reliable, highly skilled, and most importantly, kind.
And I want to thank you, the parents and caregivers, who claim less sleep and give more time and energy in order for your children to be well. Take good care of yourselves, as good as the care you give to your children. Your health and your children's health are not mutually exclusive, and your kids need and want you to be healthy, too.
Second-lastly (yep, there's gonna be one more thing), I invite you to purchase the summit recordings for life to re-listen or share, to support the production of this event and many more programs and services to come so we can continue to support families like yours. We will be holding the discounted pricing until Wednesday, May 29th, at which time it will bump up to post-event prices.
So, if you would like to own the summit recordings for life (which could be as long as it will take you to get through all of them–ha ha) View our packages here!
Finally (sheesh, will it ever end?!), I have 3 programs I MUST tell you about!
1. 7 Days to Your Child's Healing Plan. Now that you are inspired (and hopefully not overwhelmed) by all that you have learned over the last 2 weeks, you may be ready to use that knowledge to make a plan for a child in your life who has a chronic condition, is ill, or just not doing well in some way. But doing so is a bit of a daunting task, and you could use some help. In order to meet this need, I have created a series of 7 videos to teach you how to put it all together and get your kiddo better.
7 Days to Your Child's Healing Plan
If you have already purchased the summit recordings and NOT the plan, not to worry! You can upgrade here: Upgrade to the 7 Days to Your Child's Healing Plan.
2. Our Marketplace and Dispensary is open! We continue to open doors and help our families gain access to the information and tools they need. If you are interested in any of the products you may have learned about during the summit such as Biocidin, Microbe Formulas, Microbiome Labs, Activation Products, Quicksilver Scientific, doTERRA, Advanced TRS, IonCleanse, Serenity Baby Foods, Protandim, the list goes on, we have created a Marketplace and Dispensary where you can access these amazing products through us!
Access the Marketplace and Dispensary here!!
3. HFF Practitioner Training Academy. If you are a practitioner or want to be one and would like to study with me and the rest of my trainees to become a family health coach, check out the HFF Practitioner Training Academy for a rundown of this very exciting program.
In any case, I will continue to support and encourage you on your family's health revolution through so many more exciting things coming down the pike! So, settle into this loving community, as this is only just the beginning of a very beautiful friendship.
Let us return to a normal pace of life. Ahhh.
May you and your family be well,
Revolutionary Mama,
Carla.
Tags: Carla Atherton, children's health, Children's Health Summit, Children's Health Summit 4, family health, Healthy Family, Healthy Family Formula