Vitamin N, Creativity, Meditation, and Play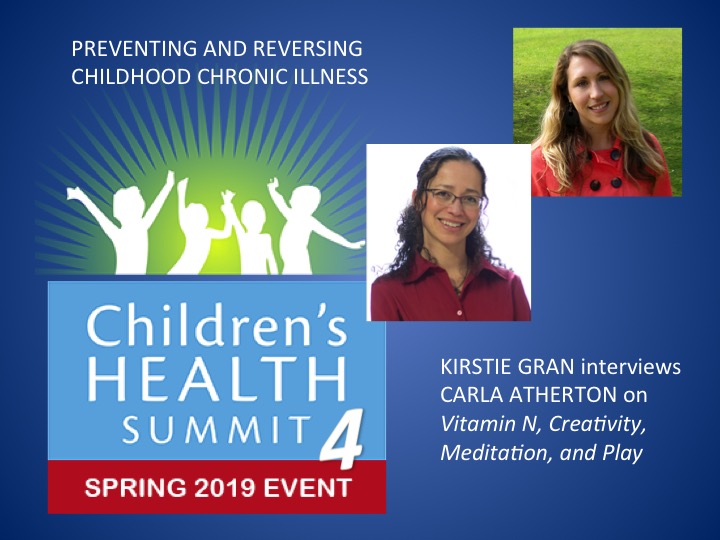 Just last week I released this interview about vitamin N, meditation, creativity, and play! It was one of my favourite interviews recorded for the Children's Health Summit 4!
There is a lot to be concerned about regarding our current state of family health, but there is also a lot to celebrate! The reason we focus so heavily on what we can improve for our families is so that our children can have the best lives they can possibly have, naturally, so they can enjoy an existence full of wonder and creativity, a life that is full and inspired.
So, today I would like to share with you one of my Children's Health Summit 4 interviews where one of my health coach trainees interviews me about all of those things that make life much more than trying to be healthy on the outside: Vitamin N, creativity, meditation, and play.
Kirstie Gran (Inner Shine and Naturally Awakened Mama) Interviews Carla Atherton on Vitamin N, Creativity, Meditation, and Play
What we discuss:
-raising spirited, engaged, and fulfilled children
-the importance of nature, creativity, meditation, and play
-modern life's effects on human growth and fulfillment
-how does underdevelopment in these areas contribute to childhood chronic illness?
-how we can teach our children stillness and a sense of self and connection.
I hope you enjoy it!
Carla Atherton, MA, FDN-P, Family Health Coach, is the director of The Healthy Family Formula, host of The Children's and Teen Health Summit, author of the forthcoming book Family Health Revolution (release date: January, 2020), editor, book junkie, research geek, insatiably curious mother of three grown (son age 21), almost grown (daughter age 19), and growing (daughter age 16) children, one of whom has Type 1 Diabetes. Carla lives on an acreage in rural Saskatchewan, Canada, where she works from a home office with families from all over the world on the reversal of conditions such as, Autoimmunity: Type 1 Diabetes, PANDAS/PANS/Autoimmune Encephalitis, Juvenile Rheumatoid Arthritis, and Celiac Disease and Non-Celiac Gluten Sensitivity; Asthma, Allergies, Eczema, and Reactivity; ADHD, Autism, Sensory Processing Disorder, Learning Disabilities; Depression, Anxiety, Mental Health Disorders, Eating Disorders, ODD; Other Neurological Conditions; Obesity, Type 2 Diabetes, and Metabolic Disorders; Untangling Mystery Symptoms, Complex Cases, and Co-Morbidities (having more than one condition); Mold Illness; Multiple Chemical Sensitivity; Lyme; Other Infection; and Addictions. Carla is on a revolutionary mission to empower families to transcend our new normal of ill health and chronic disease.
For more information or help with your own family's health journey, read more on this website, contact Carla, schedule a complimentary Meet and Greet with Carla, or learn about her Practitioner Training Programs for professionals and educational online Weekend Workshops for parents.
Tags: Carla Atherton, children meditation, children's health, creativity, family health, Healthy Family Formula, hff, meditation, play, teen health