Interviews
Interview Archives with Our Director Carla Atherton
Children's Health Summit 4: 70+ interviews on Preventing and Reversing Childhood Chronic Illness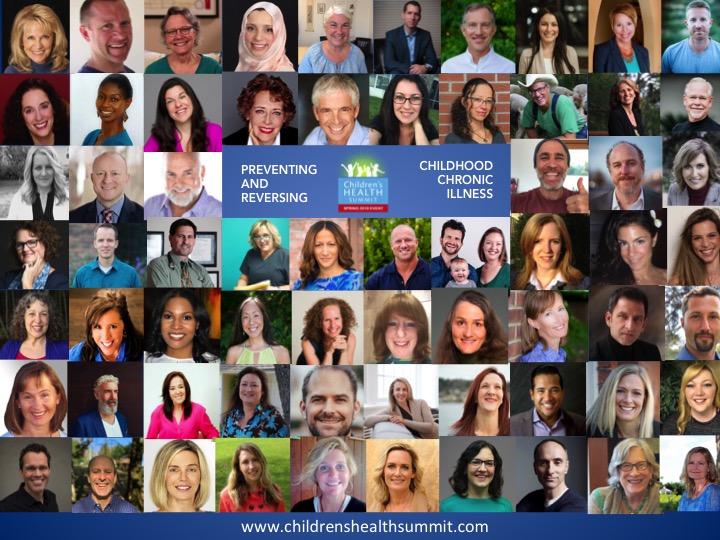 Video
Children's Health Summit 1 Keynote Address (Carla Atherton)
Take Your Children With You
Children's Health Summit 2 Keynote Address (Carla Atherton)
Parenting Children With Big Health Challenges
Children's Health Summit 3 Keynote Address (Carla Atherton)
At the Speed of Life: How Our Fast Pace Is Making Us Sick, Nuts, and Jeopardizing Our Future Generations
Radio, Podcasts, and Online Publication
July 21st, 2019
Listen to the interview I gave for The Tourist Podcast where PJ Harlow and I break down the medicalization of health as we know it while illuminating the rise in chronic illness, childhood epidemics and the simple fact that many people aren't finding answers and healing where they once did. As we talk about our own families' experiences with chronic illnesses and how we both came into Functional Health, we discuss the common patterns of denial, low expectations and feeling abandoned by the system. We go deep into some of the barriers and obstacles families, parents, caregivers and individuals are currently facing.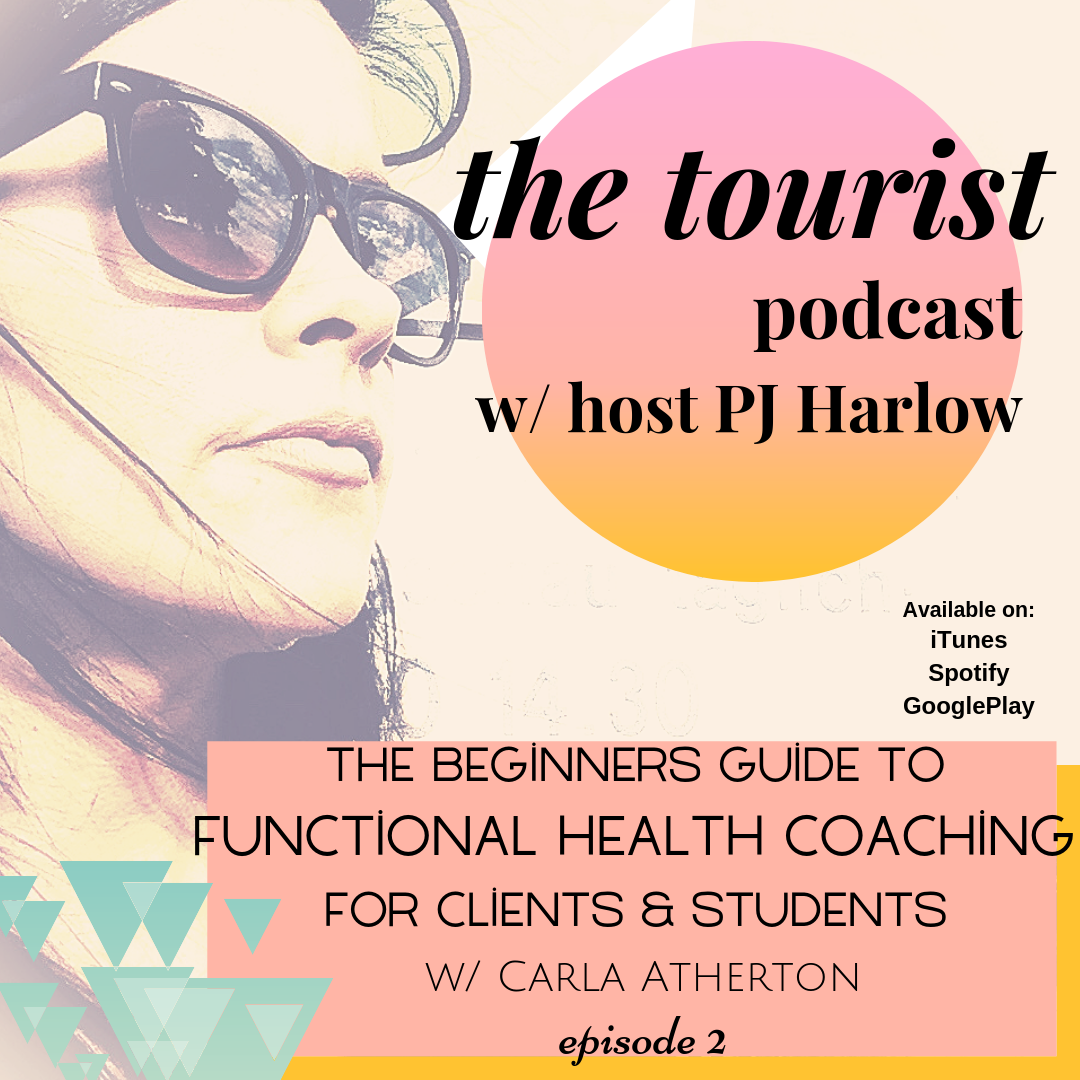 An Oldie, But a Goodie!
Listen to the interview I gave for the Thriving Child Summit covering a wide range of topics including slowing down, a new model of healthcare, how to make health enriching and fun, when gluten-free is not always healthy, vitamin N, natural childbirth, healthy eating as a gift and not a deprivation, the catalysts for childhood chronic illness, and what is causing the general malaise our families are experiencing today.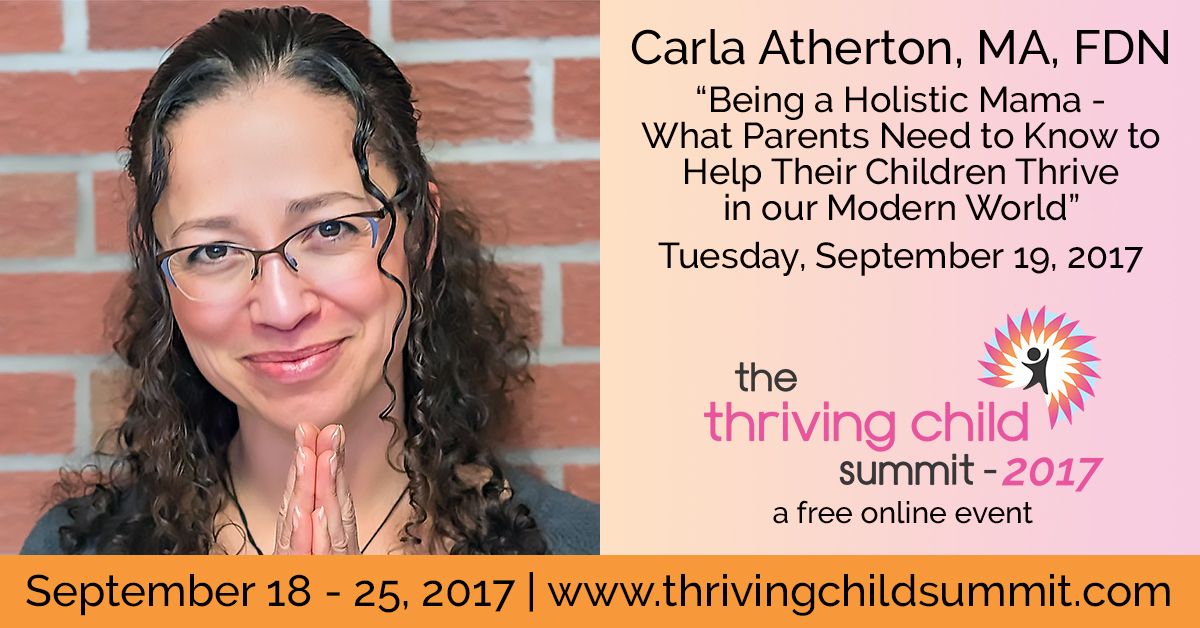 Interview on The Holistic Kids' Show about Type 1 Diabetes!
Interview on The Holistic Kids' Show about Technology's Effects on Children's Brains!
Interview on My Child Will Thrive with Tara Hunkin about Finding the Confidence to Take Charge of Your Family's Health
Interview on Helping Children Thrive with Momina Salim about The Role of a Family Health Coach in Your Child's Wellness Journey
Fearless Parent Radio Co-Host
Various Topics
Authentic Wellness Movement Radio with David White
Holistic Children's Health Care
Be a Kids Hero Radio with Ginger Kadlec
Empowering Your Kids: The Best Protection Against Abuse
Living Inside Out Podcast with Kaeli Von Regan
How Letting Go Can Build Families
The Centre for Epigenetic Expression Podcast Interview
Carla's passion for health started with her daughter's discouraging diagnosis of Type 1 Diabetes, but learning about what true health really is spurred her on to not only help her daughter but to join a revolution in family health.
Center for Epigenetic Expression Podcast Interview #2
Do you have a child with a diagnosis? Do you have a diagnosis? Or do you simply want to feel better, have your children feel better, to move past ADHD, fatigue, obesity, autoimmunity, and other conditions that are affecting your life? Do you know there is more that you can do but are not sure where to start?
Then listen to this podcast!
Epidemic Answers Webinar
Supporting type 1 diabetes with a functional-medicine approach.
Carla's daughter developed type 1 diabetes seven years ago. She discovered that mainstream medicine's main way of dealing with type 1 diabetes is matching insulin to carbohydrates. Surely there must be more to it than that? And what causes or contributes to it?
Instead of thinking, "that's all there is to it", she dove into functional medicine, an individualized, patient-centered, science-based approach that looks to eliminate rather than suppress symptoms by looking at the root causes of a disease or condition.
Carla explained to us how, through functional medicine practices and testing, you can potentially:
Find the root causes of your child's diabetes
Reduce or eliminate risk of further disease progression and complications
Reduce or eliminate risk of developing co-morbidities
Have a better relationship with your healthcare practitioners and chose the ones that will work with you in a manner that works for you
Optimize your child's health through your own efforts
Explore the possibility of complete disease reversal or elimination of symptoms
The Centre for Epigenetic Expression Podcast Interview #3
A functional, holistic approach for children with Type 1 Diabetes.
Kick off Your Damn Heels Podcast
Dr. Teralyn Farmer-Sell interviews Carla about Type 1 Diabetes, food reactivity, and mental health and how they all intersect.
Aired March 6, 2019
EmpoweredKids TV
Helping Families Heal From Anxiety
Listen/watch the interview here
Myers Detox Podcast with Wendy Myers
The Role of Toxins in Childhood Chronic Illness
Watch/listen to the interview here
The Spectrum of Health Podcast with Dr. Christine Schaffner
Lead Your Own Family Health Revolution!
Living with Lyme Podcast with Cindy Kennedy
Healing Lyme for the Whole Family
Autism Detectives Podcast with Patricia Lemer
Parenting that Heals Podcast with Dr. Sandy Gluckman
Parenting for Healing.
Holistic Children's Healthcare interview with David White
Summits
Secrets of Game Changing Parents Summit (2015) Watch here!
Family Wellness Summit (2015) Listen here!
Child Obesity Project (2015) Watch here!
Parenting Your Learning Challenged Child (2015) Listen here!
Happy Healthy Hot Mom Summit (2016) Listen here!
The Behavioural Shift: How to Raise Happy, Successful Children Going Through Behavioural and Emotional Challenges (2016) Listen here!
Forget Weight Loss Forever Summit (2016) Listen here!
Spirit-Led Parent Summit (2016) Listen here!
Raise Your Vibrations About Alzheimer's Disease Summit (2016) Listen here!
High Heels and High Chairs Summit (2016) Listen here!
The Longevity and Anti-Aging Project (2016) Listen here!
The Global Health and Healing Summit (2016) Listen here!
Love Yourself, Love Your Body Giveaway Event (2016)
HOTT MESS to HOTT SUCCESS Summit (2016) Listen here!
Be the Best Parent You Can Be (2016) Watch here!
Nourished Mama Summit (2016) Watch here!
Global Health and Healing Summit (2) (2017) Listen here!

The Self-Healing Lifestyle Summit (April 17, 2017)

Healthy Gut, Happy Child Summit (May 1, 2017) Listen here!
Healthy Never Tasted Better Summit (May 3, 2017)
The Empowered Mom Conference (June 5, 2017) Listen here!
Moms On Purpose: Live Your Purpose-Filled Life while Raising Happy, Successful, & Thriving Kids Master Class presenter (July 17, 2017)
Moms Creating Miracles: How to Transform Your Everyday Mom Stress Into Your Power to Create the Life of Your Dreams (August 1, 2017)
Raising Successful Teens Global Summit (August 21, 2017) Listen here!
Thriving Child Summit 2.0 Summit (September 18, 2017) Listen here!
The Creative Dreams Global Summit (September 18, 2017)
Reclaim Adventure in Your Mom Life 5-Day Challenge (January, 2018)
Healthy, Wealthy, and Slim Summit (Talk Title: "

Fearless Mom Kicks Chronic Disease's Butt!) 

(April 1, 2018)
Caring for the Caregiver Summit (April 4, 2018)
Healthy Gut, Happy Child Summit 2 (April , 2018)
FIT Event (April, 2018)
Empowering Families to Thrive – How to Raise Happy and Healthy Kids with Courage and Confidence (Oct, 2018)
Healthy Kids The Easy Way – A Simple & Stress-Free Action Plan to Get Your Kids Eating Right & Building Great Health For Life! (Oct, 2018)
Raising Your Strong-Willed Child Summit (Summer 2019)
Healing Our Children World Summit (Summer 2019)
Ultimate Health Coach SUCCESS Summit (June 2019)
Children's Health Summit 4 (Host and Producer; Spring, 2019; learn more here)
Your Child with Special Needs Show (February 2020)
The ADHD Toolbox 2 (March 2020)
Autism Recovery Summit 4: Healing Brain, Body & Being (August 2020)
Autism, ADHD, and Sensory Processing Disorder Summit 3 (June, 2020)
Trauma Mind Body Super Conference hosted by Niki Gratrix and Alex Howard (Aired July 2020)
Integrative Pediatrics Summit (

August

 2020)
Conquering the Battle Within: Powerful Resources for First responders and Healthcare Professionals to Stay Connected with Love, Laughter, and Leadership (August 2020: listen here!)
The Healing with Vibration Summit hosted by Lloyd Burrell (August 2020)
The Happy Child with Special Needs Summit (aired September 2020; access talks here)
The Courageous Boss Mamas Event hosted by Ashley Kiefer (April 2021)
The ADHD Toolkit Live hosted by Bob Dietrich (airing May 18, 12:00-6:00EST; REGISTER HERE NOW!)
The Global Consciousness Health Summit 2.0 with host Jodi Geline (airing June 3-12 2021)

Secrets to Radiant Health: Supercharge Your Body to Reclaim Your Sexy, Reclaim Your Energy, and Live Pain-Free with Suzanne Roth-Paul (September 2021)
As a Featured Expert
Parenting Your Way, From Tough Love to Enough Love (book) by Kaeli Van Regan
The interview that led to to the book excerpt. Listen here!
Coming up!
Guest on
Helping Children Thrive podcast with Monina Salim (date TBD)