My Talk for the "Your Child With Special Needs Show"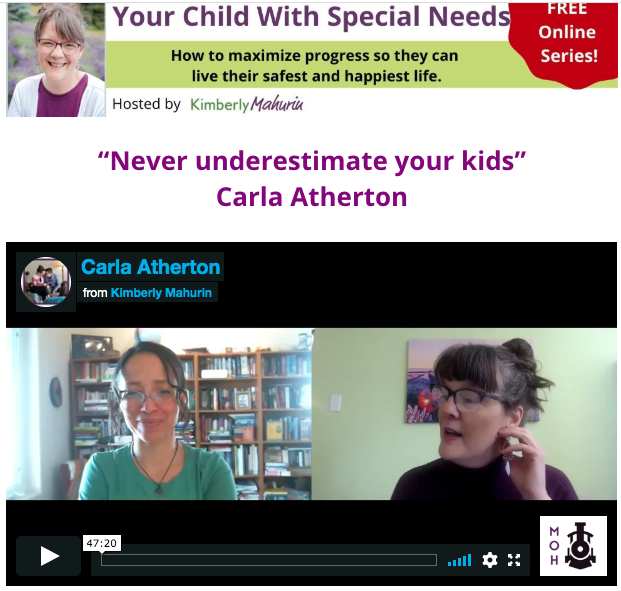 My interview on Kimberly Mahurin's Your Child with Special Needs show is airing NOW!
Kimberly and I discuss:
How your child's environment is key: internal and external
How finding the root causes of any illness is essential
How placating and distracting our children with special needs creates bigger problems like tech addiction and poor lifestyle and eating habits
How parents can inspire, heal, and fill their child up with things they are passionate about
Carla Atherton, MA, FDN-P, Family Health Coach, is the director of The Healthy Family Formula, host of The Children's and Teen Health Summit, author of the forthcoming book Family Health Revolution (release date: January, 2020), editor, book junkie, research geek, insatiably curious mother of three grown (son age 21), almost grown (daughter age 19), and growing (daughter age 16) children, one of whom has Type 1 Diabetes. Carla lives on an acreage in rural Saskatchewan, Canada, where she works from a home office with families from all over the world on the reversal of conditions such as, Autoimmunity: Type 1 Diabetes, PANDAS/PANS/Autoimmune Encephalitis, Juvenile Rheumatoid Arthritis, and Celiac Disease and Non-Celiac Gluten Sensitivity; Asthma, Allergies, Eczema, and Reactivity; ADHD, Autism, Sensory Processing Disorder, Learning Disabilities; Depression, Anxiety, Mental Health Disorders, Eating Disorders, ODD; Other Neurological Conditions; Obesity, Type 2 Diabetes, and Metabolic Disorders; Untangling Mystery Symptoms, Complex Cases, and Co-Morbidities (having more than one condition); Mold Illness; Multiple Chemical Sensitivity; Lyme; Other Infection; and Addictions. Carla is on a revolutionary mission to empower families to transcend our new normal of ill health and chronic disease.
Tags: ADHD, autism, Carla Atherton, Children with Special Needs, Healthy Family Formula, Speciel Needs Children