Coaching Your Family Into Health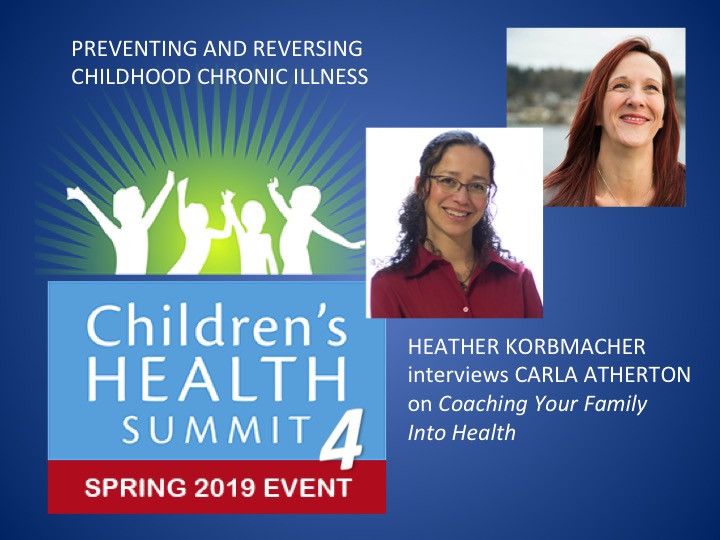 Our modern families face a multitude of health challenges; some of these challenges are due to conditions we have experienced in the past such as heart disease and cancer, but some are new kids on the diagnostic block such as autism and ADHD, and some are now occurring at rates that are utterly out of control such as Alzheimer's and autoimmune conditions. Old, new, epidemic, all of these health conditions are sweeping our communities. And why? Well, I can tell you why. Keep reading.
People want to take control. I know you do. But how do you do that? Where do you go to get the right information and proper support? How do you put into action all that you have learned and have yet to learn regarding your family's health? To answer these pressing questions, I am releasing my Children's Health Summit 4 interview I did with one of my HFF Practitioner Trainees, friend, and colleague, Heather Korbmacher.
Heather Korbmacher (Courageous Educational Services LLC) Interviews Carla Atherton on Coaching Your Family Into Health
What We Discuss:
-do you need a family health coach?
-how to find a health coach
-what you need to know and do to coach your own family into health (this is the golden ticket!)
-how revolutionary parents are the real heroes
As always, I hope you get a lot out of the interview!
Carla Atherton, MA, FDN-P, Family Health Coach, is the director of The Healthy Family Formula, host of The Children's and Teen Health Summit, author of the forthcoming book Family Health Revolution (release date: January, 2020), editor, book junkie, research geek, insatiably curious mother of three grown (son age 21), almost grown (daughter age 19), and growing (daughter age 16) children, one of whom has Type 1 Diabetes. Carla lives on an acreage in rural Saskatchewan, Canada, where she works from a home office with families from all over the world on the reversal of conditions such as, Autoimmunity: Type 1 Diabetes, PANDAS/PANS/Autoimmune Encephalitis, Juvenile Rheumatoid Arthritis, and Celiac Disease and Non-Celiac Gluten Sensitivity; Asthma, Allergies, Eczema, and Reactivity; ADHD, Autism, Sensory Processing Disorder, Learning Disabilities; Depression, Anxiety, Mental Health Disorders, Eating Disorders, ODD; Other Neurological Conditions; Obesity, Type 2 Diabetes, and Metabolic Disorders; Untangling Mystery Symptoms, Complex Cases, and Co-Morbidities (having more than one condition); Mold Illness; Multiple Chemical Sensitivity; Lyme; Other Infection; and Addictions. Carla is on a revolutionary mission to empower families to transcend our new normal of ill health and chronic disease.
For more information or help with your own family's health journey, read more on this website, contact Carla, schedule a complimentary Meet and Greet with Carla, or learn about her Practitioner Training Programs for professionals and educational online Weekend Workshops for parents.
Tags: Carla Atherton, children's health, empowerment, family health, family health coaching, Health Coaching, health support, healthcare, heather korbmacher, hff, parenting, teen health