Wifi in Schools and Your Child's Health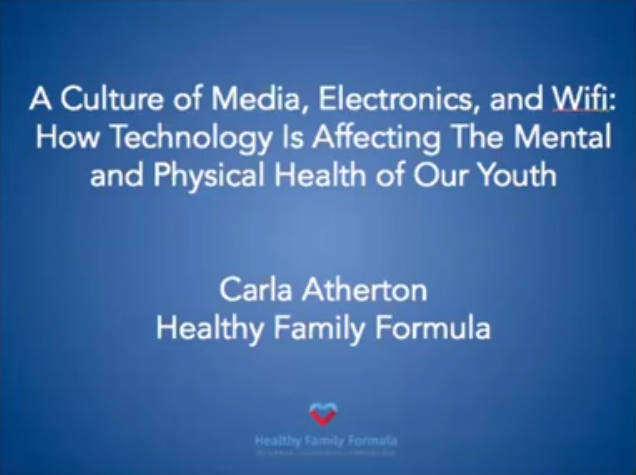 Are you concerned about the mental and physical health effects of wifi in your child's school? I know that I am. Please let me explain more fully in the talk I gave for the roundtable series by Wired Schools: Cancer, Depression, Anxiety, Suicide at Schools Exploring Causation and Solutions.
The replay began this summer, and I neglected to blog about it! So, in case you missed it, my talk is now available here!
Live speakers for the event included: Virginia Farver, Carla Atherton, Richard Lear, David James Rodriguez, Jeanice Barcelo and Dr. Priyanka Bandara. Interviews with Erica Mallery-Blythe MD, Olga Sheean and Shelley Wright will be added to the series separately.
My talk Chronic Childhood Conditions: Exploring Causations & Solutions is the first from 10 panelists who spoke on the subject.
Let's discuss the problems AND the solutions!
Carla Atherton, MA, FDN-P, Family Health Coach, is the director of The Healthy Family Formula, host of The Children's and Teen Health Summit, author of the forthcoming book Family Health Revolution (release date: January 2020), editor, book junkie, research geek, insatiably curious mother of three grown (son age 20), almost grown (daughter age 18), and growing (daughter age 15) children, one of whom has Type 1 Diabetes. Carla lives on an acreage in rural Saskatchewan, Canada, where she works from a home office with families from all over the world on the reversal of conditions such as, Autoimmunity: Type 1 Diabetes, PANDAS/PANS/Autoimmune Encephalitis, Juvenile Rheumatoid Arthritis, and Celiac Disease and Non-Celiac Gluten Sensitivity; Asthma, Allergies, Eczema, and Reactivity; ADHD, Autism, Sensory Processing Disorder, Learning Disabilities; Depression, Anxiety, Mental Health Disorders, Eating Disorders, ODD; Other Neurological Conditions; Obesity, Type 2 Diabetes, and Metabolic Disorders; Untangling Mystery Symptoms, Complex Cases, and Co-Morbidities (having more than one condition); Mold Illness; Multiple Chemical Sensitivity; Lyme; Other Infection; and Addictions. Carla is on a revolutionary mission to empower families to transcend our new normal of ill health and chronic disease.
For more information or help with your own family's health journey, read more on this website, contact Carla, schedule a complimentary Meet and Greet with Carla, or learn about her Practitioner Training Programs for professionals and educational online Weekend Workshops for parents.
Tags: cancer, Carla Atherton, childhood cancer, childhood depression, children's health, children's mental health, depression, Healthy Family Formula, suicide, teen depression, teen health, teen mental health, teen suicide, teen violence, wifi, wifi and children's health, wifi and health, wifi and school, wifi and teen health, wifi in schools, wired schools